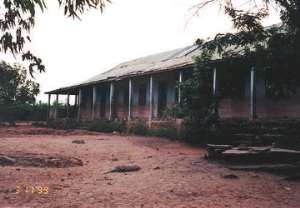 ... as assembly pulls down block The Kwabre District Assembly resulting to the displacement of 500 JSS pupils and the destruction of 400 tables and chairs, has demolished an eight-unit classroom block of the Divine International School at Atimatim near Kumasi.
The exercise, which was carried out under the supervision of personnel of the police from Mamponteng, the district capital on August 19, 2003 also left 16 teachers stranded.
According to Dr. Osei Yeboah, the proprietor of the school, the Assembly claims the school block was built without authorization of the Assembly.
Dr. Yeboah said the assembly, which registered the school in 1995, rezoned the area for educational purposes. His claim is supported by a site plan duly approved by the Kwabre District Assembly and signed by the then DCE on July 3, 1998.
According to the proprietor, the Assembly had not served any notice on him before the demolition took place around 10 am on the day in question.
He believes officials of the Assembly were influenced to cause the demolition of the school out of jealousy because other buildings alongside the school were not affected by the exercise.
Dr. Yeboah intends taking legal action against the Assembly.
The DCE, Alhaji Kwasi Yeboah confirmed the demolition when Chronicle called on him for an explanation of the Assembly's exercise.
According to him, the exercise was carried out on the strength of Local Government ACT 462, which authorizes the Assembly to embark on demolition of structures at unauthorized places, and buildings without permit.
The DCE declared that the proprietor of the demolished school would be made to bear the cost of demolition in line with the provisions of the law.
DCE Yeboah explained that proprietor Yeboah had over the years refused to produce the building permit, an indication that he had none and therefore the construction was illegal aside the fact that, it was put up on an access street.
He denied the Assembly ever rezoning the area, which comes under the Pinanko Mansowa Stool land from residential users to educational user purposes.
The Chief executive regretted causing damage to a school, which benefited society most, but explained that the exercise was inevitable because the safety of the residents in the area was paramount.
He said the blockade by the school block posed a great danger in case of fire outbreaks and other emergencies because it had virtually rendered the other side unaccessible.