Savannah View: Graduating With Second Class Upper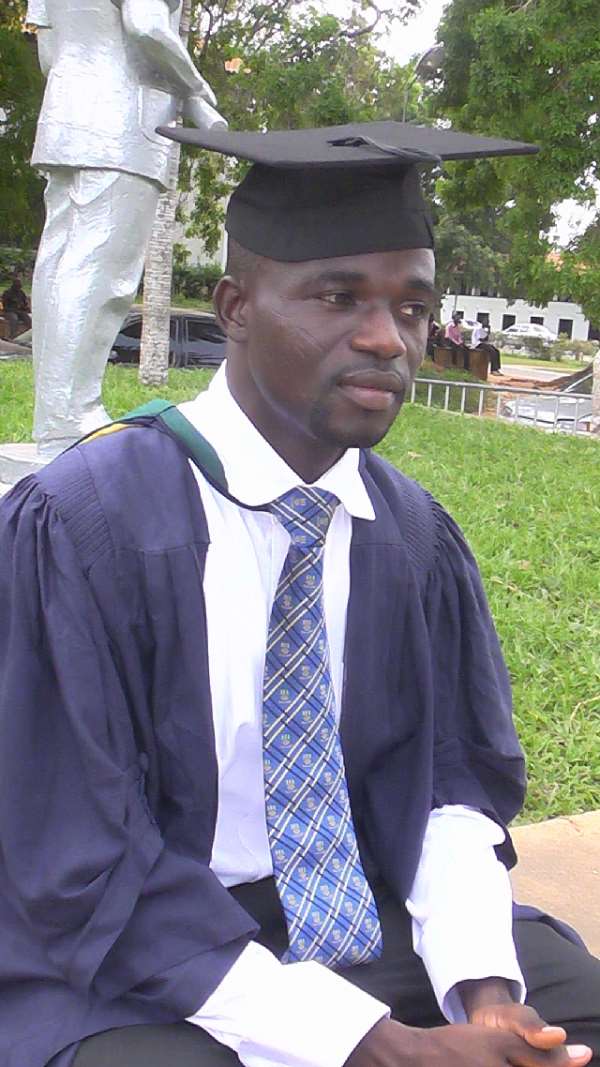 Before authorities of the Ghana Institute of Journalism (GIJ) released the list of the 2010 graduating class and how we fared, one lecturer who was visibly disappointed in my performance whispered my class to me. I had missed First Class narrowly, he said.
I was not surprised at my performance. Neither was I surprised when calls from disappointed friends started pouring in when the final list hit the notice board. What surprised me was the extent to which some of them went.
"In everything we give thanks to God," a Christian sister remarked, as if she was consoling someone bereaved. "He knows why it has happened that way. Just accept it and give thanks to God."
"Why have you disappointed us like that," a female staff at GIJ's administration called.
"How have I disappointed you?" I feigned ignorance about what she meant.
"Haven't you been told that your classes are out?" she asked. I said I knew it. She went on to say how disappointed "everybody" felt about my class.
The reaction of friends and colleagues alarmed me about how to break the news to my family. For my father, it wasn't a problem. He can neither read nor write and all that I had to say was that I had "passed all my final papers" would be awarded a degree.
He would thank God and praise his ancestors for their mercies. "My prayer has always been that if God and my ancestors are really alive, they shouldn't let any of my children suffer the way I'm suffering," he would say.
Since 1989, he has worked as a night watchman at the Krachi Government Hospital. Sleeping on wooden benches and being exposed to mosquitoes and the vagaries of the weather is, indeed, suffering of no mean measure. And all he has to show for his toil is his children's education. "Even if I'll walk naked and educate my children, I will," he often said even when we were still too young to understand the value of education.
So he would be happy I was getting a degree, never mind the class. But the trouble here was how to break that news to my elder brother, who had supported my father to sponsor my tertiary education.
His only response when I mentioned Second Class Upper was "Okay." And after an awkward silence, I added the date for the congregation. He said he could not attend. And no member of my family attended my graduation, except my younger brother who was in Accra and went with me to Legon on March 12, 2011. It was later in the day that he asked about my class when it was clear that I was not going to tell him voluntarily. "It's Ok," he encouraged me after I told him.
I had stopped telling people about my graduation because the embarrassment in correcting them that I was not graduating with first class honours. At the Chiropractic and Wellness Centre, where I did my National Service, no one knew I was graduating until they saw the pictures much later. In my church I informed no one. Neither did I give any thanksgiving offering.
"Even if we had nothing to give you, we would help thank the Lord for your success," they said when they heard that I had graduated. Thank God? I felt ashamed of myself.
Because of financial reasons, my elder brother could not pursue a degree though he got a distinction in the SSSCE. I was therefore the luckiest, the first in the family to earn a degree. My elder brother's reaction meant that I had set the wrong pace. But did I actually fail my family?
I was not one of those students who think tertiary education is all about fun and chilling out. In all my four years in GIJ, I never attended any of their numerous beach parties. I never attended any of the night clubs and only heard about drink ups.
Women? No! The only fair and pretty lady who swept me off my feet went her way long before I had time to ascertain whether my infatuation with her was actually love or lust. Lust comes with an expiry date, remember? And that was a brief spell in the last semester and did not affect my grades.
I did not see the need to tell my disappointed friends, lecturers and family why I missed first class. But looking back, I have no regrets.
I was my year group's representative on the editorial board of The Communicator, a newspaper published by GIJ. I was also an executive member of the Campus Christian Family for three consecutive years and played active roles in other clubs and associations. I also started the Secondary Times newspaper for senior high schools and was the reporter, publisher, editor and distributer. I even helped in the designing. In my final year, I was also the Students Representative Council (SRC) President, which also took much of my time.
The actual reason I missed first class, however, was that I had my personal syllabus aside the one we all learnt. After my practical attachment with GTV in Level 100, I had a different perspective about the programme I was pursuing. I realised what was taught in the classroom was not exactly what was happening in the newsroom. And after having my appetite for journalism whetted in the newsroom, I returned with a different mind-set. I spent more time reading novels, newspaper articles and journalism books than my notes.
The best material I chanced upon in the GIJ library was a series of books titled Best Newspaper Writing. They are collections of powerful award-winning and shortlisted newspaper stories in the annual competition organised by the American Society of Newspaper Editors (ASNE). The library had quite a number of such books and I read them cover to cover. And the more I read, the more I saw lapses in our own system. The inverted pyramid format for newswriting, which we have religiously followed and made journalistic writings more boring and monotonous than a civil servant's memo, was nowhere in these award-winning hard news stories.
I did not end there. I explored and read other works by the award winners on the internet. I discovered Pulitzer Prize's website and saw an inexhaustible source of learning. The website had the award-winning stories online. I printed and read all winning stories in the features category from 1995 to 2011. Some of them are really books, more than 40,000 words long. I also read stories from other categories and tracked some of the most compelling writers such as Thomas French of the St. Petersburg Times, who won the 1998 Pulitzer Prize for Feature Writing.
Jim Sheeler of the Rocky Mountain News, who won the same prize in 2006 with his spellbinding series, Final Salute, is now the Shirley Wormser Professor of Journalism and Media Writing in Case Western Reserve University. I felt privileged when he replied my email and agreed to mentor me in my journalism career.
While I explored the works of journalists across the world, one thing that struck me was the deficiency in the course structure. There were many areas to cover but very little attention was given to what we would be doing after school. Apart from the one-semester Writing Skills, which is a university requirement, we did not have English Language as one of the subjects.
But I knew from my reading that journalism was made up of the content and the language. Fortunately, the Diploma students were doing English Language. So at Level 400 I joined Mr Modestus Fosu's English Language class in Diploma 2 usually in the evening when I closed.
Aside reading and straying into other lectures, I also wrote articles and published on the internet, newspapers and on trees and notice boards on campus. Radio Ghana's news commentary segment offered me a learning platform.
So my Second Class Upper was not because I went to fool about. In March 2011, I felt terrible when everybody thought I had disappointed them. But looking back, I have no regrets.
I started getting job offers while I was still in school. And I have rejected many job offers since leaving school. Prospective employers do not ask about my class. They cite my writings. In the year of my graduation, I also had a golden opportunity to redeem my lost image.
At the 16th Ghana Journalists' Association Awards, my elder brother, who could not attend my graduation, was with me in the Banquet Hall of the State House. My father was also there. They followed me upstage when I was awarded the Human Rights Reporter of the Year. The smock-wearing duo also went on stage with me when I picked up the prize as the Best TV News Reporter. And my brother carried me upstage to pick my third award for the night: the Most Promising Young Journalist of the Year.
In Kete-Krachi Lakeside, the Awuni Adaboro family from Albert Abongo's Bongo Constituency kept vigil and cheered. "We were so happy we couldn't sleep afterwards," they would say later.
At the Ghana Institute of Journalism, staff and students who were disappointed at my class now sang a unanimous chorus: "You have made us proud!"
On top of that I'm almost done with my masters' degree. I was not a failure after all!
When I grow up and get a good woman, I will marry. Before my children go to the university, however, I will sit them down and give them one piece of advice:
The dogmatic cult called academia is not easily susceptible to change. In the university, you'll be given too many things to learn without necessary focussing on what you'll be doing after school. Figure out what you want to do after school and give 60% of your time to that and 40% to your course work.
First class graduates are not always the brightest!
Savanah View is a weekly column published in the Tuesday edition of The Finder newspaper. Writer's Email: [email protected]