Egypt coach blames loss on weariness, poor passing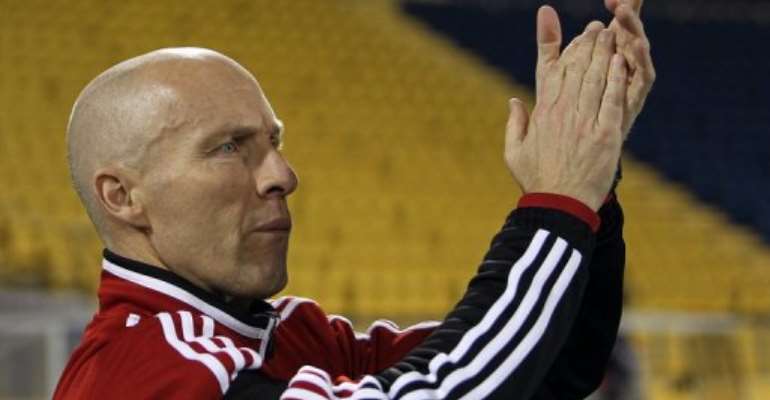 JOHANNESBURG (AFP) - Coach Bob Bradley said weariness and poor passing contributed to the stunning 3-2 home defeat Egypt suffered against the Central African Republic this weekend in a 2013 Africa Cup of Nations qualifier.
The first leg result behind closed doors in Mediterranean city Alexandria leaves the Pharaohs needing a two-goal victory in Bangui on June 30 to be certain of making the last-30 final elimination round.
Record seven-time Cup of Nations title holders Egypt led twice against rivals 14 places lower on the African rankings before David Manga snatched a 69th-minute winner at the Borg El Arab military stadium.
Losing to usually poor travellers Central African Republic ended the 38-match unbeaten home record of the North African country since the introduction of Cup of Nations qualifiers 47 years ago.
Egypt entered the match confident of success following a routine home win over Mozambique in a 2014 World Cup qualifier and a dramatic 3-2 stoppage-time triumph in Guinea last weekend.
"My players were exhausted after the clash with Guinea only five days ago ," former United States coach Bradley told reporters after arguably the biggest upset in Cup of Nations qualifying history.
"I did not expect that performance at all. We had many faults during the game, but this display is not a true reflection of our team as we played much better this month in the World Cup qualifiers.
"This defeat is a harsh lesson for me and my players not to underestimate any opponent," said the coach who took over the Pharaohs last year when long-serving Hassan Shehata quit after failing to qualify for the 2012 African finals.
"Our passing was not sharp enough with two of the Central African Republic goals coming when we unnecessarily lost possession. Our defending also left much to be desired.
"I saw a lot of things tonight that made me unhappy and we need to analyse this match thoroughly so that to improve ahead of the return match later this month."
The absence of support has hindered Egypt with spectators barred since post-game rioting at a match in Port Said on February 1 claimed 74 lives and triggered the cancellation of all domestic fixtures.
This was a mixed blessing for Bradley as he had far more time than any other national coach in Africa to work with his squad, but the mainly local-based stars lacked competitive match sharpness.