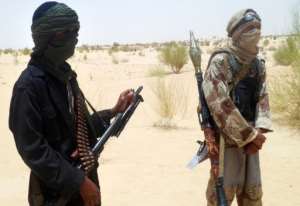 BAMAKO (AFP) - Malian police have taken in the head of a key development agency in the north for questioning about contacts he is believed to have had with rebel groups, a security source said Saturday.
"The director general of the North Mali Development Agency, Mohamed Ag Mahmoud, was questioned for investigative purposes," a Malian security source said late Friday on condition of anonymity.
Mahmoud, an ethnic Tuareg, had been travelling in Ouagadougou, the Burkina Faso capital, shortly before a March 22 coup that opened the way for Tuareg and Islamist rebels to occupy the north of the country.
He recently returned to rebel-held Gao and held "talks with criminal groups and now he is in Bamako, it is normal that he be questioned," said the security source.
Mahmoud's family confirmed that he had been taken in for questioning.
His development agency is one of the most important state structures in the region.
Mahmoud reportedly met with the Tuareg National Movement for the Liberation of Azawad (MNLA) as well as Ansar Dine (Defenders of Faith), who are both occupying the vast north.