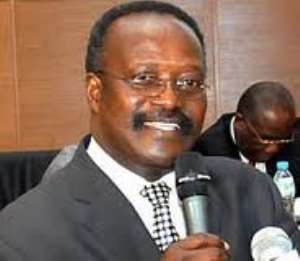 Essipon (W/R), June 16, GNA - Mr Kwesi Ahwoi, Minister of Food and Agriculture, on Friday announced that the government would support two new oil palm out-grower schemes in 2013 in the Western Region.
He announced this at the dialogue session of the Western Regional Policy Fair at Essipon near Takoradi. His topic was "Exploring the full potential of agriculture in the Western Region".
Mr Ahwoi said the feasibility studies for the two schemes will start in August this year and that government has already engaged Agence Francaise de Developpement (AFD), the French Development Agency, to finance the schemes, which are expected to help 750 farmers to cultivate 3000 hectares of oil palm.
He said government will launch Ghana's Oil Palm Development Master Plan next month and that the next 15 years would see the support the development of a new 10,000 hectares nucleus plantation with a 40,000 hectare out-grower scheme, hopefully in the Prestea-Huni Valley District.
Mr Ahwoi said the government's initiative to expose the region's potential in rubber production has resulted in the increase of rubber cultivation from 12,000 hectares in 1995 to more than 30,000 hectares currently and more potential exists in the region for the crop's development.
He said the current cultivated area is only 2 per cent of the region's agricultural land area and the way is now clear for the private sector to continue exploiting the immense potential of the crop in the region.
Mr. Ahwoi said the Cape Saint Paul Wilt Disease (CSPWD) has seriously affected the coconut industry by devastating over 14,000 hectares out of the 43,000 hectares of coconut plantations and the destruction continues unabated with the Western and Central Regions being most affected.
He said his ministry has not given up on coconut and is currently producing the Sri Lankan Green Dwarfs seedlings and planting materials for farmers to replant their plantations.
Mr Ahwoi said research trials over the past 17 years have confirmed the resistance of this hybrid variety to the CSPWD.
He said the Restoration of Livelihood to Coconut Farmers Project will provide free planting materials to farmers who have lost their farms to CSPWD and support other farmers to access planting materials at a subsidized price.
Mr. Ahwoi said more than 1,050 hectares of CSPWD destroyed farms belonging to 1,000 already registered farmers in the Shama District and the Nzema East Municipality will be replanted, adding that, unaffected farmers will also have the opportunity to plant 1000 hectares from subsidized planting materials.
He said the speed of replanting is slow at the moment because the current existing seed gardens are only 30 hectares and can produce only as much seedlings.
Mr. Ahwoi said the project will address the small seedlings production base by establishing an additional 10 hectare Sri Lankan Green Dwarf (SGD) seed garden.
GNA