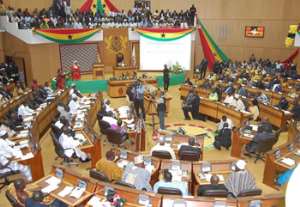 Accra, June 15, GNA – Parliament on Friday approved a supplementary financing agreement between Ghana and the International Fund for Agricultural Development for an equivalent of nine million dollars for the Rural and Agricultural Finance Programme.
The purpose of the facility is to support the implementation of the Rural and Agricultural Finance programme in providing improved and sustainable livelihoods to the rural poor, particularly women and vulnerable groups, by improving their access to sustainable financial services through enhanced outreach, sustainability and linkages.
Mr Edward Doe Adjaho, First Deputy Speaker, put the question for its approval after debates for its adoption from both sides of the House had ended.
The agreement was laid in the House on Wednesday, February 2011, by a Deputy Minister of Finance and economic planning, Mr Seth Terkper on behalf of the Finance and Economic Planning Minister, Dr Kwabena Duffour.
Mr James Klutse, Chairman of the Finance Committee, who signed the Committee's report, said to achieve the purpose, the facility would be used to build the capacity of the ARB Apex Bank, rural and community banks and microfinance institutions.
It has a service charge of 0.75% per annum on withdrawal amount, a grace period of 10 years and a repayment period of 30 years.
Mr Klutse said an agricultural finance and action plan has been prepared by the Government through an intensive consultative process with a wide range of stakeholders in both the agricultural and financial sectors.
GNA