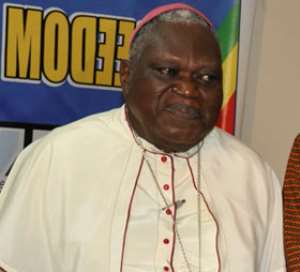 During his inaugural address at a Centre For Freedom and Accuracy (CFA) programme yesterday at the Coconut Grove Hotel in Accra, one-time Archbishop of Kumasi, the Most Rev. Peter K. Sarpong, discussed matters which until now have been issues confined to places outside the public domain.
Taboo subjects such as tribalism and politicization of everything from employment to scholarships, have remained matters that church leaders who touch on them are immediately assigned a political party.
We were glad that the church leader, although in retirement, broke the ice when he stated in no ambiguous terms that we cannot be Christians without belonging to our country. And if we belong to a country, we must partake in matters bordering on her progress.
There is nothing farcical about church leaders therefore partaking in socio-political subjects, since after all, these shape the nation in which the church thrives.
Imagine a situation where a country is facing civil strife and church leaders decide erroneously that it is outside their remit to engage in a conversation that would douse the flame engulfing the community in which they operate. That would not only be outrageous- it would be ungodly.
In Ghana in recent times, some church leaders, especially the Catholic Bishops' Conference, have had cause to join in major national political discourses. But in their myopic perception about such issues, some Ghanaians, especially those belonging to the ruling party, descended heavily on the clergy, with all manner of unfair impressions.
The church can only appeal to a congregation which is well fed and not haunted by the repercussions of bad governance. Need we therefore be told that good governance is one goal the church must contribute towards achieving in our society?
Integrity and truth, the bottom-line of his delivery, is without doubt the missing link in the management of the country by politicians. Had these virtues not suffered from the lip-service of selfish and greedy politicians, certain transactions such as the payment of judgment to persons who had no contract with the state, would not have taken place at all.
These transactions did take place and now form the basis of an abrasive political argument between persons on the two sides of the political divide, as the courts take their turn to do justice to the subject.
How many people are ready to serve their country without embracing corruption to enrich themselves? The former Archbishop flayed corrupt politicians who, we can assert, are engaged in the graft in a manner which defies comprehension.
The issue of tribalism, which is as pervasive as corruption in the country and as corroborated by the retired Archbishop in his delivery, is so bad that in some organizations, the director-general, his deputy and the one following the deputy hail from the same ethnic grouping and region in the country.
This is not only unacceptable but morally inappropriate and a threat to the national interest and security. We cannot agree more with the former Archbishop.