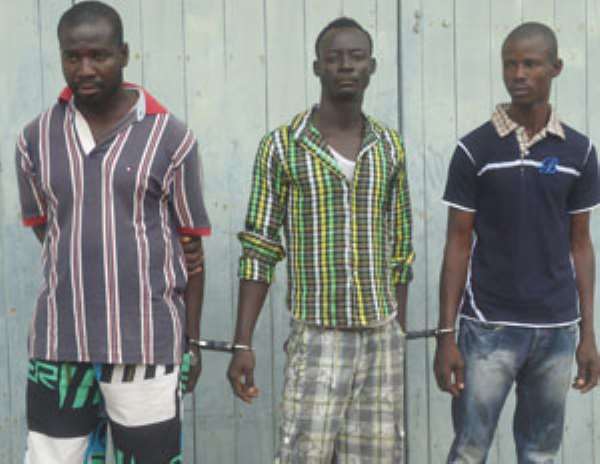 BUSTED! Samuel Kwame Addo (left), Kofi Seth Tawia (middle) and Ernest Amago Kudji
A large crowd of curious residents besieged the Eastern Regional Command of the Ghana Police Service yesterday when it was announced that those who shot and killed a soldier and an official of the National Board for Small Scale Industries (NBSSI) in a robbery spree on the Koforidua-Mamfe road on May 27, 2012, had been arrested and were to be paraded for identification by victims.
The police had a tough time controlling the crowd who were mostly sympathizers of the NBSSI project officer, Kwabena Obeng Owusu-Ansah, who was very popular at Koforidua.
The suspects were rounded up at Tinkong in the Akuapem North Municipality but close to Koforidua.
A tip-off led to their arrest, which took place when Ernest Amago Kudji, 32, who had been identified as the main architect of the robbery, was having dinner with Samuel Kwame Addo alias Oboe, 38, at his Tinkong home.
Those arrested were Ernest Amago Kudji, a known motorbike repairer at Koforidua and a hardened criminal, Samuel Kwame Addo and Seth Kofi Tawiah, 31.
Oboe was identified as the person who shot and killed the soldier, WO1 Fred Amoako.
Ernest Kudji was said to have been involved in a robbery in 2005 and arrested; but his colleagues helped exonerate him by saying he was just a motorbike repairer after which he absconded to Aflao, his hometown.
He was said to have come back to organise the youth of the area for such armed attacks.
Victims of the robbery on the Koforidua-Mamfe road all identified the three out of eight people paraded as those who carried out the attacks on them.
One other person, Kodjo Masko, who is connected to the attack, is however on the run.
Members of the public who thronged the police headquarters yesterday had wanted to vent their spleen on the suspects, but the police managed to contain the situation to avert any mishap.
The police said they would solicit the necessary information from the suspects, so that all those involved could be arrested.
According to them, there were about eight to 10 people involved in the robbery on that fateful day.
Owusu-Ansah was gunned down in his BMW X-3  4-wheel drive with registration number GC 6886-11, when he was returning from Apostle Mission Church, a popular charismatic church at Mamfe/Lartey, after a three-day retreat.
 From Thomas Fosu Jnr, Koforidua