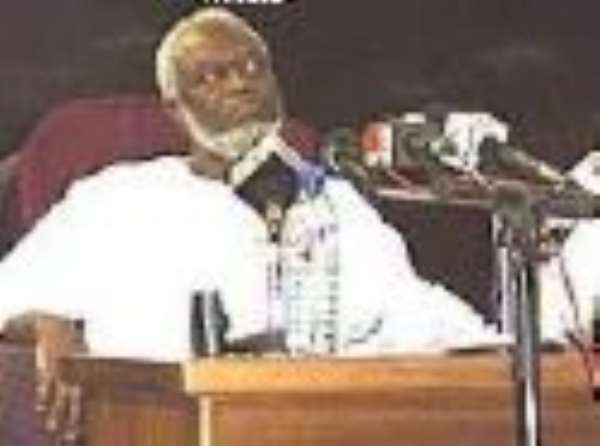 Accra, Aug. 28, GNA - A former Police Officer on Thursday told the National Reconciliation Commission (NRC) that Captain Kojo Tsikata had him arrested for investigating the abduction and the murder of the three High Court Judges and an Army Officer in 1982.
Mr William Oduro, former Senior Investigation Officer of the Ghana Police Service, said he lost his job and was jailed for 10 years in absentia in 1983 by a public tribunal.
He said he was at the James Fort Prisons when the June 19, 1983 jailbreak took place and he escaped.
Mr Oduro, who said he enlisted into the Police Service in 1961, appealed to the NRC to restore him to the rank of a Deputy Commissioner of Police, the position he would have attained if he had been in the Service.
He said he went into exile in Holland and was an employee of Unilever Foods.
The Witness said before his arrest, Captain Tsikata, then a member of the Provisional National Defence Council (PNDC), openly said to him: "We have killed them and so what? All that you are doing will go nowhere."
Mr Oduro then Assistant Superintendent of Police said his other offence was coming up with a report on the proliferation of weapons, indiscriminate human rights abuses and killings and the general indiscipline.
The Witness said in 1983 he was lured into Capt. Tsikata's Office in the Castle by Mr K. B. Quantson, Head of the Bureau of National Investigations (BNI), where he was arrested.
"The people in Tsikata's Office included Baafuor Assaase Gyimah, a Military man and K. B. Quantson," he said.
The Witness said when he enquired about his offence for being arrested, Capt. Tsikata told him: "We are the government and we can do anything we want. Therefore, I am not obliged to tell you why you have been arrested."
Mr Oduro said Mr Quantson had earlier told him that Tsikata was annoyed and had informed Flight Lieutenant Jerry John Rawlings, then the Chairman of the Provisional National Defence Council (PNDC), that the panel recruited people to laugh at him Capt Tsikata. He also alleged that Tsikata threatened that all the other members of the investigating team were going to be arrested.
"I explained to them that Nana Konadu Agyeman Rawlings, wife of former President Rawlings, came with some friends to make noise at the place. I was asked to write a report on that and I did."
Mr Oduro said the investigation committee had planned to arrest Tsikata but Kwabena Gyamfi, who was working with the Committee, was a spy for Capt. Tsikata and informed him accordingly and he never came. "Instead he sent a message that we should give him a questionnaire to fill," he said, adding that K. B. Quantson said he should have been informed about the plan to arrest Tsikata.
He said during his arrest at the Castle, he was accused of being a spy for a foreign power adding that on three occasions during the interrogation, he could have shot all of them but an inner voice told him to stop since he would be carrying the crimes of those people.
Mr Oduro said Capt. Tsikaka asked soldiers to search his house and they seized his passport and the Police Service identity and membership cards.
He said one of his soldier escorts, informed him at the Castle cells that he would have been shot at Dzorwulu during their return to the Castle on the pretext that he tried to escape and died when he was being re-arrested.
Mr Oduro said he was stripped to his pants for four days in the cells. He was transferred to the Winneba Prisons where he spent four months.
"At the Winneba Prisons, I was given black soup and after taking it I started having a strange feeling in my body. A short while later I fell unconscious and regained consciousness at the Warders' Office whilst I was receiving treatment."
He said he had reasonable grounds to believe that he was poisoned.
Mr Oduro said: "Though I am a Ghanaian, I am a stateless man living by the courtesy of the Royal Kingdom of Netherlands." He said the food poisoning had affected his sight adding his vision has become blurred.
The Witness said during his work with the Investigating Committee Mr Quantson asked him to sign about 10 blank receipts and promised that money would be paid him later but no money was paid to him. "I am embittered because I see no reason why I should work for my country and end up being treated this way."
He said more Ghanaians would have been killed if it had not been for the investigation into the murder of the Judges and the Army Officer.
The Witness said he had forgiven Flt. Lt. Rawlings and Capt. Tsikata for the punishment they made him to go through. He praised Mr Jacob Yidana, Head of the Investigation Team, for his support adding that he was the greatest Policeman he had known in his 23 years of service.
Mr Oduro said he had the names of some countries and individuals, who instigated the PNDC government to undertake those actions and pleaded with the commission to hear him in camera.