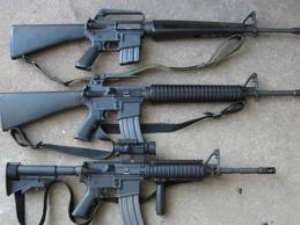 Accra, June 11, GNA - The Revenue Protection Information Bureau (RPIB), has called for the dismissal of personnel of the Customs Division of Ghana Revenue Authority (GRA), whose negligence to duty is facilitating the smuggling of arms into the country.
"The GRA authorities should discipline officials at the Preventive Unit of the Division, at the Elubo border in the Western Region, whose lack of vigilance led to the smuggling of cache of arms and ammunition on board a haulage truck in Kumasi."
This was contained in a statement signed by S.G. Nkrumah, Co-ordinating Director of the Bureau and copied to the Ghana News Agency in Accra on Monday.
The items from neighbouring Ivory Coast were allegedly owned by one Inusah Kusasi. It comprised nine AK 47 rifles, a loaded pistol and 281 rounds of AK 47 ammunition.
The Bureau commended the customs officials in Kumasi for managing to intercept the arms and ammunitions and expressed the need for the Management of GRA to honour them appropriately.
The RPIB also asked the Division to reward the informant behind the arrest to serve as motivation to "such selfless people who are ready to take such risks to safeguard the peace and security of Ghana".
The statement said the arrest of the arms and ammunitions had exposed the weakness of preventive duties at the Elubo Border.
The RPIB said reports reaching it indicate that some of the personnel at the border post had been there for a number of years, thus making them stale and vulnerable to material influence from miscreant traders to compromise on professionalism.
Advertisement
"Some have kept too long at post and this is compromising their professional competence and weakening security at the border, hence the need replace them."
"Report gathered by the RPIB also indicates that a number of the officials are also engaged in cross-border business."
The statement said the weakness of preventive duties is threatening revenue and national security.
"When vigilant officials of the Bureau of National Investigations steps in to correct such irregularities some of the custom officials view it as interference in their work."
The statement called on the custom authorities to probe the anomalies since the Ivorian crisis had created a huge market for the buying and marketing of arms.
The RPIB said the Elubo border should be the number one security priority of the State since the ex combatants of the conflict who have access to very sophisticated arms have not been disarmed or re-engaged in productive ventures.
Some of the rebels therefore live by selling arms whilst evidence made available to the RPIB shows that pockets of them are even operating private armouries.
The Bureau said national security should be extra vigilant at the border since the flow of these dangerous weapons could fuel conflicts in flash points in the country.
The statement said unrestrained flow of arms could also undermine peaceful election during the December 7 General Election.
GNA