Kenya president vows probe into minister's air crash death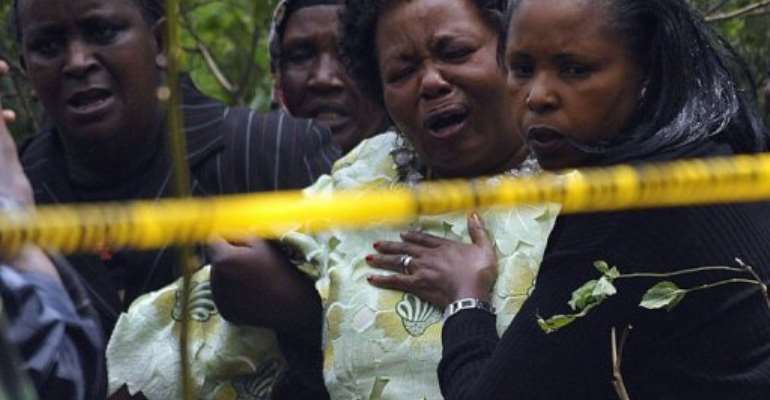 NAIROBI (AFP) - Kenyan President Mwai Kibaki on Monday vowed a thorough inquiry into the helicopter crash that killed George Saitoti, who was seen as a leading contender to take over from him in polls next year.
All six people on board the chopper -- internal security minister Saitoti, his assistant minister, two body guards and both pilots -- were killed when it crashed into a forest west of the capital Nairobi on Sunday.
Somalia's Al-Qaeda linked Shebab group, believed to be behind several recent bomb and grenade attacks in Kenya, hailed Saitoti's death but stopped short of claiming responsibility.
There was no evidence of foul play and Kibaki said it appeared the helicopter had veered off course before hitting the ground and exploding.
"We hope that the investigation report that will be availed to the public will get the full details on how the plane lost direction," Kibaki told legislators, adding that "thorough investigations on the cause of the crash" have started.
"The weather is not to blame for the accident ... The weather was fine in the Ngong area and (there was) a visibility of eight kilometres (five miles)," Transport Minister Amos Kimunya told the same meeting.
The manufacturer of the aircraft, Eurocopter, said it had deployed experts to help in the probe.
"Eurocopter has mobilised a team of experts to assist and support the Kenyan authorities ...," the company said in a statement.
The manufacturer, based at Marignane in the south of France, confirmed that the aircraft, an AS350 B3e, was built in 2011 and delivered to the Kenya police last December.
"The helicopter had logged about 230 flight hours since new and was last serviced at the end of May 2012," said the company, owned by the European aeronautics and defence group EADS.
The police helicopter came down soon after take off from Nairobi's Wilson Airport. Witnesses at the scene told AFP that the aircraft "hovered up there and looked like it was turning back" before coming down.
Another witness, farmer Ole Tolei, said that he had seen the helicopter "flying very low. It came down suddenly and we heard a loud explosion, and then it burst into flames."
European aviation authorities last month called for safety checks on another Eurocopter model, the best-selling EC135, after cracks were found on a rotor during a routine inspection.
Saitoti was seen as a leading challenger to Prime Minister Raila Odinga in presidential polls scheduled for March 2013.
Sunday's is the third of a series of air crashes that have robbed the Kibaki administration of top officials.
The most recent was in 2008 when a Cessna aircraft carrying two cabinet ministers crashed into a building in Narok, a town outside Nairobi.
In January 2003, just weeks after Kibaki's government came to power, a light aircraft carrying government ministers crashed in western Kenya killing one minister and three others. Three other ministers survived the accident.