Fifi Kwetey Begs NDC MPs. After Insulting Them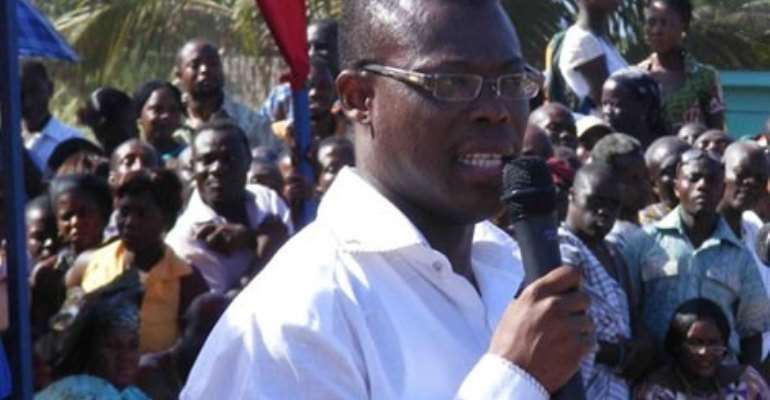 A SELF-STYLED Rambo, Fifi Kwetey, who recently insulted the ruling National Democratic Congress (NDC) Members of Parliament (MP) by describing them as 'mumu' and timid in the country's legislature, is now begging for forgiveness.
The newly elected NDC parliamentary candidate for Ketu South, in post-election comments, descended heavily on NDC MPs because, according to him, they virtually behaved like helpless supine virgins in Parliament, waiting to be defiled.
However, DAILY GUIDE has learnt that the deputy minister for finance and economic planning has called a number of NDC lawmakers on his mobile phone, pleading for mercy after denigrating and insulting them with his acerbic tongue.
He was said to have eaten the humble pie and made a fast retreat following hot exchanges he had on radio with some aggrieved lawmakers of the ruling party.
In the opinion of Fifi Kwetey, NDC MPs had remained too timid and weak by allowing the minority New Patriotic Party (NPP) to always dominate debates in Parliament.
Speaking to Radio Gold , Fifi Kwetey bragged that his presence in Parliament was going to inure to the benefit of the NDC since he would be silencing the voices of NPP MPs.
'I will thunder and thunder and be heard across the nation and beyond,' the deputy minister boasted, promising to be a thorn in the flesh of members of NPP in Parliament.
'For our friends in NPP, I can only say they got it coming and they got it coming well. I sit in Parliament as deputy minister of finance and my heart bleeds. I'm like look at how they (NPP) are having a field day here and I can't wait for 2013. I can't wait to be in that House with people like Okudzeto…and hopefully A. B. Fuseini,' Fifi Kwetey served notice.
According to him, his heart bled seeing the opposition NPP dominate public discourse, promising to silence NPP MPs when he entered parliament in 2013.
'Right from the inception…I couldn't simply understand why NDC is always too timid and allow the NPP to dominate discussions. I couldn't just fathom it and wasn't able to fathom it when I was in University of Ghana. And it is the reason I entered into politics to begin with.
'The NPP was always dominating discussion on campus and I'm like what is happening here? And it is same thing that has happened even after school. I became the National Propaganda secretary purely because of that. Why on earth should we always allow them to dominate discussions? I wanted to become propaganda secretary so that we can arm the length and breadth of the NDC that you can rise up and not let these guys dominate you,' Fifi Kwetey bragged in a news item by peacefmonline.com
According to him, although NDC MPs were picking up in terms of debates, they would be catching up by electing more seasoned debaters like him to represent NDC in parliament.
Fifi Kwetey beat the incumbent MP for Ketu South, Albert Zigah, in a landslide victory to become NDC's parliamentary candidate for the 2012 general elections.
He polled 403 votes while Zigah managed only 60 votes in the primaries.
 By Awudu Mahama