Hohoe Muslims on rampage over exhumation of Imam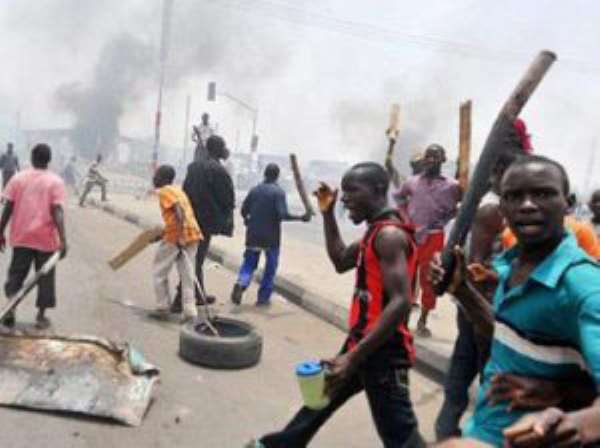 There are reports of fierce clashes leading to the burning of cars and other property in the Hohoe municipality where Muslim youth have clashed with the traditional leaders of the area.
The renewed clashes were as a result of the exhumation of the corpse of the Chief Imam of the area who was buried yesterday in line with the tenets of the Islam religion.
There has been simmering tension in the Gbi Traditional area for some time now. It all started when a 21 year old boy was electrocuted and rushed to the Hohoe Government Hospital where he later died.
The youth of the area angered by the death of the young man vandalized property at the Hospital, accusing it of not taking good care of the young lad.
The young man was later buried and reports have it that his body was exhumed by some Muslim youth in the Zongo where he was buried.
After a series of confrontations the Paramount Chief of the Gbi Traditional Area Togbiga Gabusu issued a letter to the Zongo Chief warning that henceforth no Muslim should bury their dead on the land.
It is however unclear if this order in the letter was due to the earlier exhumation of the 21 year old but upon receipt, the Zongo Chiefs pleaded with Togbiga for clemency but he refused.
The Chief Imam was thereafter buried on Sunday, defying the orders of Togbiga Gabusu and in the wee hours of Monday the Chief Imam's body had been exhumed and dumped on the Jasikan road.
This led to the current unrest which is causing fear in the area. The Police who are currently on the ground have been totally outnumbered by the youth and some citizens are calling for reinforcement for the security services.
Source: Citifmonline