S.African platinum strikers meet to discuss wages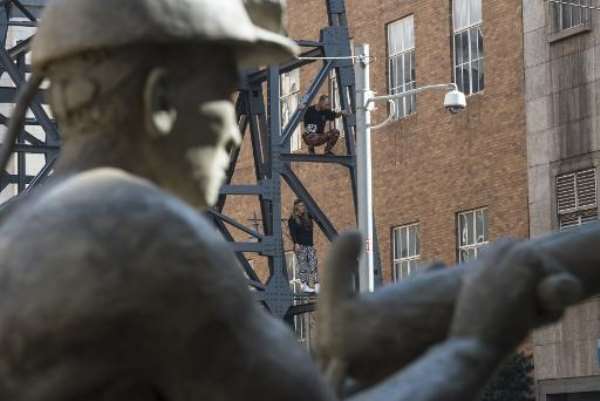 Protesters climb on a steel structure as they demonstrate in support of an ongoing strike in the platinum mining sector, outside the South African chamber of Mines on June 11, 2014 in Johannesburg. By Mujahid Safodien (AFP)
Johannesburg (AFP) - A South African union on Thursday was to hold talks with more than 70,000 members at platinum mines to decide how to proceed after the latest round of talks failed to resolve the country's longest-ever mining strike, its leader and media said on Thursday.
Mass meetings with members of the radical AMCU union would "start at Impala, Anglo Plats (Anglo American Platinum) and Lonmin", AMCU president Joseph Mathunjwa confirmed to AFP in a text message.
The mass talks come after the third round of negotiations aimed at breaking stoppages at the world's top three platinum producers broke down earlier in the week.
Local media reported around 17,000 workers had gathered mid-morning at Impala Platinum near Rustenburg northwest of Johannesburg, where Mathunjwa was expected to consult members on the next steps in the strike that has crippled the vital sector.
The workers downed tools on January 23, demanding that their basic salary be more than doubled to 12,500 rand ($1,160, 860 euro). Employers have offered the figure as a basic wage package including travelling and other cash extras, to be reached by 2017.
But the strikers rejected the deal, insisting on the amount that has become a rallying cry on South Africa's platinum belt, and which propelled to prominence the non-government-aligned Association of Mineworkers and Construction Union (AMCU).
This week Mining Minister Ngoako Ramatlhodi abandoned the latest mediation talks after he failed to break the deadlock.
The minister warned that mines could close if the stoppages continued, leaving thousands of people without income and cutting off a vital export in the mining-dependent country.
South Africa holds around 80 percent of the world's known platinum reserves.
Mining firms estimate the strike has already affected 45 percent of the global supply of platinum.
Meanwhile charities have been handing out food packages to struggling families of striking workers who have gone months without pay.