Police Clash With Anlo Residents, one dead, 13 arrested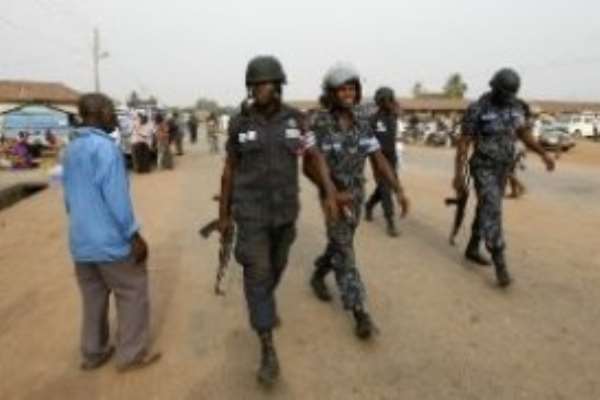 One person is reported dead early Sunday after the Ho Municipal police embarked on a dawn swoop to arrest drug peddlers at Anlo Kordzi near the Ho Central market of the Volta region.
The deceased, Atsu Mensah was shot dead when he tried to attack a Police officer.
The drug peddlers were angered by the event and engaged the police in a fight by throwing objects including stones and sticks.
Sensing danger, the Police retreated to the station but this angry mob advanced to the Ho Municipal Police Station and attacked police officers on sight.
The angry mob were said to have blocked the road from Taso Hotel to Civic center.
The Military from the 66 Artillery Regiment was called to duty to restore order.
Several other people sustained varying degrees of injuries. The Police have so far arrested 13 suspects and have begun investigations.
The Volta Regional Minister and chairman of the Regional Security Council, Mr Henry Ford Kamel has confirmed the incident.
He explained the police were on their usual patrols at the Ho Central market at a place notorious for drug peddlers.
According to him, the police attempted to arrest Atsu Mensah but he drew out a dagger and attempted to attack the police man.
The police in self defence shot and killed him. But this angered some residents and friends of the deceased who went on a reprisal attack, the minister stated.
He added police and military personnel have been deployed there to ensure calm.
source: Joy News