Church attacks kill at least 3, wound dozens in Nigeria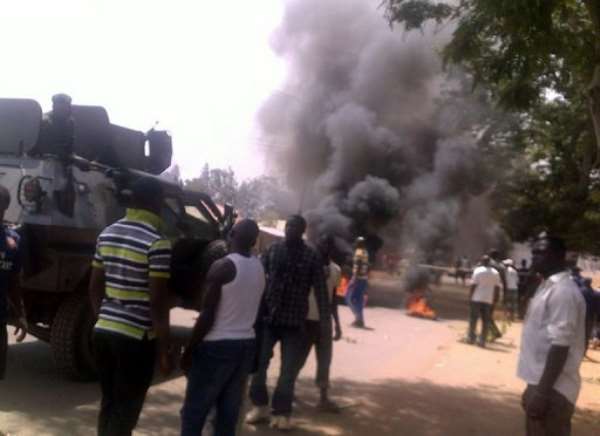 The aftermath of a bomb attack on a church in Jos in March, almost exactly three months before Sunday's attack. By - (AFP/File)
LAGOS, Nigeria (AFP) - A suicide bomber drove his car at a church in central Nigeria while gunmen opened fire on another church in the northeast Sunday, killing at least three and wounding dozens, officials said.
The assaults were the latest in a series targeting churches in Africa's most populous nation and largest oil producer, with many of the previous attacks claimed by Islamist group Boko Haram.
Witnesses and a rescue official said a suicide bomber drove his car towards a church in the central Nigerian city of Jos. Although he did not manage to get inside the church, the force of the blast caused the building to collapse, police said.
"Forty-one wounded, the bomber and two others died ... The wounded were receiving treatment at Evangel Hospital, Jos," local government spokesman Pam Ayuba told AFP.
"The suicide bomber did not drive into the church before the explosion. He was in front of it," police spokesman Abuh Emmanuel said.
"The church building collapsed entirely due to the intensity of the bombing."
The second attack killed at least one person and wounded several when gunmen opened fire during a service in the northeastern town of Biu, Samson Bukar, the local Christian Association of Nigeria chairman told AFP.
"One female worshipper was killed while several others were wounded, two of them critically. The gunmen escaped after the attack."
Boko Haram's insurgency has killed more than 1,000 people since mid-2009, especially in Nigeria's Muslim-dominated north.
Its attacks have grown increasingly sophisticated and have affected a wider area, spreading from their base in the northeast across the wider north and down to the capital Abuja, in the centre of the country.
It claimed responsibility for a suicide bombing of UN headquarters in Abuja in August which killed at least 25 people as well as a suicide attack on the Abuja office of one of the country's most prominent newspapers.
The group has continually widened its targets, which have included security forces, churches and police headquarters in the capital.
Jos lies on the fault line between the Muslim-majority north and the Christian-dominated south and has also seen waves of clashes between Christian and Muslim ethnic groups.