NPP Not Worth Dying For - Kennedy Agyapong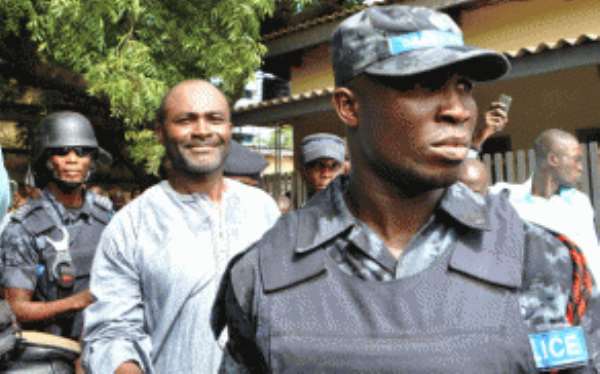 Flashback: Kennedy Agyapong being led to court
Flashback: Kennedy Agyapong being led to court The controversial Member of Parliament (MP) for Assin North, Mr Kennedy Ohene Agyapong, says he is highly disappointed in his political party, the New Patriotic Party (NPP), for abandoning him during trying times.
The NPP firebrand was emphatic that his party was not worth dying for, citing the massive support the Director of Communications at the Presidency, Mr Koku Anyidoho, had enjoyed within the National Democratic Congress (NDC) since his 'reckless' statement concerning the purported dismissal of the Ashanti Regional Director of the Electricity Company of Ghana (ECG) over the floodlight malfunction at the Baba Yara Sports Stadium during the Ghana-Lesotho World Cup qualifier last week.
The embattled MP made it very clear that he was very peeved at the NPP for disowning him when he needed the party's support the most.
According to him, the party had treated him unfairly, abandoning him to fight his battle alone, ever since he was charged with treason after allegedly making inflammatory statements inciting Ashantis against Gas and Ewes.
However, the NPP has dismissed claims that it has betrayed its own financier and MP.
The Head of Communications of the party, Nana Akomea, told Joy News that the comments by Mr Agyapong were misplaced.
In an interview on Adom FM, the Assin North MP recounted how he had to fight alone in court, without the help or support of the party he had sacrificed for over the years.
'Even the people I call my friends in the party, people I fed and took care of have also abandoned me in difficult times,' he added.
Mr Agyapong, who granted his first radio interview on the case on Adom FM's 'Dwaso Nsem' Friday, was reacting to a statement by the Central Regional Minister, Mrs Ama Benyiwa Doe, who blamed Thursday's ethnic clashes at Ekumfi Narkwa on the "tribal comment" purportedly made by him.
Mrs Doe said on Adom News on Thursday that Fantes were putting Mr Agyapong's words into practice.
The MP had denied inciting ethnic violence as he had been accused of.
In his reaction, Nana Akomea said he was surprised at the Assin North MP's utterances, adding that the NPP had supported Mr Agyapong all the way through during his arrest and prosecution.
He said on the day the MP was arrested, he (Nana Akomea), together with the party chairman and other leading party members, was present at the Police Headquarters to show their solidarity.
Nana Akomea recounted how party loyalists, as well as party lawyers, besieged the court premises to support the MP during the trial.
That, he said, could not be described as "a party hanging its own member to dry".
He stated, however, that the party was not worried and reiterated the fact that the NPP did not support the intemperate language used by Mr Agyapong in his infamous war declaration, a position he said the party still maintained.