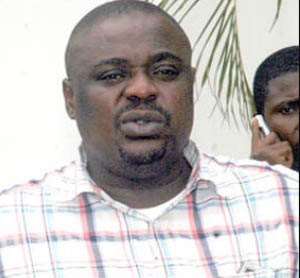 Koku Anyidoho is at his tether's end. After hurling reckless invectives at political opponents of the President, which he has done with negative repercussions on the image of his employer, he has turned his guns against his colleagues.
A revolution, they say, eats its own. Although Koku's crude conduct in the art of presidential propaganda is hardly close to a revolution, we cannot be faulted when we refer to it as a craze which suits the demands of the President. Silence, we are told, means consent. Need we demand further evidence of the President's acquiescence of Koku's foolishness?
Honestly, Koku is a pain on our democracy and a slur on the image of the presidency. Never have we had such a bloke as an image manager at the presidency.
Rather than endear the President to the people of this country, he appears to be doing the contrary, deepening a schism which is at variance with good governance. That is the situation of the presidency at the controls of President Mills and Koku Anyidoho- two of a kind indeed. Perhaps those arguing in favour of the president's inability to fire the bloke for his unproductive work at the seat of government are doing so from this standpoint.
For a man with all the trappings of a political nuisance, his recent gaffe for which many demanded his head, did not surprise many of us.
Now that the confirmation is beyond doubt that he is the man behind the newspaper, 'The Informer', writing the most vitriolic column in the publication and with the consent of the President, we can safely draw our conclusion about the state of governance in Ghana.
He writes the way he talks, descending on obscenity as though he has never had contact with the traditional Ghanaian fashion of bringing up a child.
Not even women are spared his obscene literature. His proclivity to describing women as whores has earned him the opprobrium of many who have identified him with the column. It is the acquiescence of the President with what he writes and says which has surprised persons who hold civility in high esteem.
His infamous pronouncement, 'I hate Kufuor, I do not want to see him', resonates on the political terrain even as the President pretends not to have heard the nonsense.
One of his recent theatricals was when he sang about the rotten teeth of those who opposed the President and exercised their democratic right of expressing themselves in the media.
So bad was it that many wondered whether he is really the President's spokesperson or his bouncer.
As for the President he only smiles when his bullish boy displays his indiscretion.