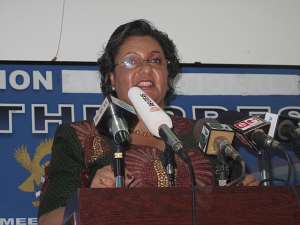 Accra, June 8, GNA – The four-month moratorium given to non-Ghanaians engaged in illegal trading activities to comply with relevant provision of Section 18 of the Ghana Investment Promotion Centre Act 1994 (Act 478) expires on June 21.
Consequently, the Inter-Agency Task Force tasked to clamp down on the illegalities perpetrated by the illegal traders would on Monday June 25, move into market places to shut stores and deal with any emerging issues including tax evasion and non-compliance with immigration regulations.
Ms Hannah Tetteh, Minister of Trade and Industry announced this at a press briefing in Accra on Friday.
Though the relevant provision of the Act reserved retail trading in the marketplaces exclusively for indigenous Ghanaian operators, some foreigners have blatantly violated the law.
Places they have been spotted operating include Circle-Tip-Toe lane, Odawna market area, Kantamanto, Makola, Tema Station, Abossey Okai Spare Parts markets, Accra Post Office, Zongo-Lane, Adabraka market and Malata.
Others include UTC Shoes market, Fishing Net market, Agbogboshie, Timber market, Tudu area, Achimota market, Nima, Odorkor and Mallam market, Kasoa and Weija market, New Town market, Kotobabi and Pig Farm area and Teshie.
Meanwhile, Ms Tetteh stressed that the Government was not expropriating the assets of the non-Ghanaians dismissing the suggestion that government was engaged in alien enforcement act.
"We are not telling them to sell their properties, or move from the country. All that we are asking them to do is to comply with the law."
Ms Tetteh said "The laws of Ghana require Ghanaians who wish to establish businesses to register or incorporate their businesses with the Registrar General's Department (RGD), and register with the Ghana Revenue Authority (GRA) to satisfy their obligations to the State. What is required of Ghanaian citizens is equally required from non-Ghanaians."
She said the provision in the GIPC Act required foreigners who wished to engage in trading activities to invest a minimum of GH¢300,000, adding that, non-Ghanaians were not to establish their businesses in market places though they could operate in other commercial areas.
"This is because trading is an economic activity with relatively low entry costs, as opposed to setting up a manufacturing or services oriented business.
Therefore the intention of the Act is to ensure that Ghanaians in the micro and small enterprise sector are not subjected to the kind of competition from foreign businesses that would make it unprofitable for them to operate."
On the issue of "commercial" and "market" places, Ms Tetteh said the local government authority defines and determines what a market place was but stressed that "a market place like Makola or Kotokroaba was different from a business operated at a commercial place like Osu Oxford Street."
She said "In embarking upon this legitimate operation, we are conscious of the existence of the Economic Community of West African States (ECOWAS) Protocol on Free Movement of Persons, the Right of Residence and Establishment."
Ms Tetteh gave the assurance that government would not breach the provisions of the protocols to which Ghana was a signatory to.
The Government on Monday, February 20, reconstituted an Inter Agency Task Force to monitor activities of non-Ghanaians in the trading sector and to ensure that GIPC Act 478 of 1994 were complied with by foreign nationals.
Ms Tetteh said though the Government recognised the positive economic impact of foreign direct investment, it had reserved small scale retail activity, petty trading, petty trading and hawking exclusively for Ghanaian nationals as a deliberate policy position.
She said it was government's desire to attract more foreign direct investments but added that the investments needed to be the right type and kind that complied with the country's laws.
On how to deal with Ghanaians who fronted for such foreign nationals, Ms Tetteh expressed the hope the Ghana Union of Traders Association, which had members on the Task Force, would work effectively and efficiently to identify culprits.
She advised non-Ghanaian traders to, as a matter of urgency, make the necessary arrangements to comply with the relevant provisions in the Act
The Inter-Agency Task Force is made up of the Ministry of Foreign Affairs and Regional Integration to enable the Ministry to adequately deal with the immigration issue of the foreign nationals, GRA, Ghana Immigration Service,
Ghana Police Service, GIPC, Social Security and National Insurance Trust and the RGD.
It is chaired by the Minister of Trade and Industry.
GNA