Suicide blast kills 5 at police HQ in Nigerian city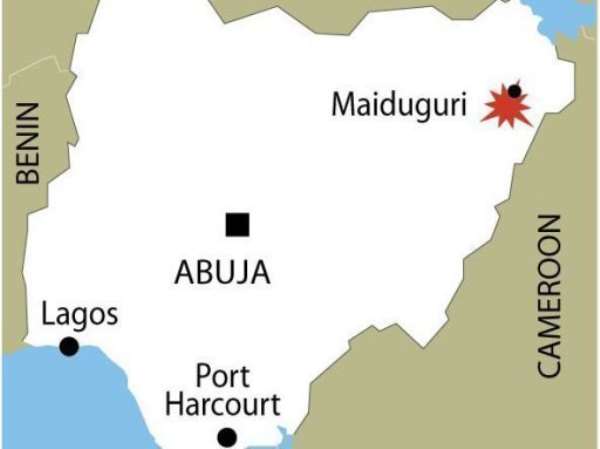 Map of Nigeria locating the violence-hit city of Maiduguri in the country's northeast. By (AFP/Graphic)
ABUJA (AFP) - A suicide blast at the police headquarters in Nigeria's restive city of Maiduguri on Friday killed at least one police officer and four civilians as well as injuring several others, officials said.
According to a statement from the police headquarters in the capital Abuja, a police inspector and four passersby were killed in what was the latest violence to hit the tense northeastern city that has been at the centre of Islamist group Boko Haram's insurgency.
"In addition, three other civilians and a couple of police officers sustained injuries of various degrees," the statement added.
The official tally is slightly at odds with earlier information, when multiple witnesses including a hospital worker reported seeing the bodies of two policemen.
The bloody attack was the latest to hit Maiduguri, the city where Boko Haram's mosque and headquarters were located until they were destroyed in a 2009 military assault.
The Boko Haram insurgency has killed more than 1,000 people since mid-2009.
In August, a suicide bomber sought to attack the same building -- the police headquarters for Borno state -- but he was shot dead by authorities.
Security has been extremely tight in the area in recent months, including checkpoints and road traffic restrictions. A special military task force has put hard-hit areas of the city in lockdown.
The city has been hit by repeated bombings and shootings, often targeting security forces. Thousands of residents have fled the spiralling violence.
On Tuesday, Nigerian soldiers killed at least 16 militants when they moved into an area of Maiduguri where Boko Haram members were believed to be hiding. Gunfire and blasts rocked the area for several hours.
Boko Haram's attacks have grown increasingly sophisticated and have affected a wider area, spreading from their base in the northeast across the wider north and down to the capital Abuja, in the centre of the country.
It claimed responsibility for a suicide bombing of UN headquarters in Abuja in August which killed at least 25 people as well as a suicide attack on the Abuja office of one of the country's most prominent newspapers.
The group has continually widened its targets, which have included security forces, churches and police headquarters in the capital.
Nigeria, Africa's most populous nation and largest oil producer, is roughly divided between a mainly Muslim north and predominantly Christian south.