Miss ECOWAS Ghana 2010 embarks on peaceful Election campaign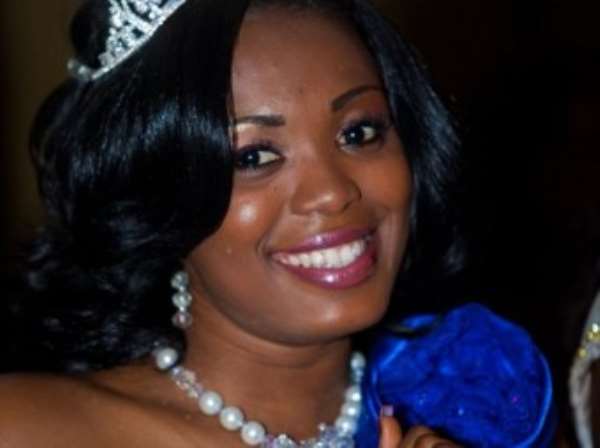 Accra, June 8, GNA - Miss ECOWAS Ghana 2010, Rama Sidiqque together with some selected school pupils from across the country will pay a courtesy call on Vice President John Dramani Mahama at the Castle, Osu.
The visit forms part of activities lined up for the "Right To Live Peace Campaign."
It is to seeking the support of the Presidency for the campaign and assuring the pupils of a peaceful Election 2012 since they are mostly affected by political instabilities.
She would pay similar calls on Flag bearers of all political parties for the December Elections.
This was contained in a statement issued in Accra on Friday and copied to the Ghana News Agency and signed by Nana Yaw Owusu-Mante, Public Relations and Media Executive of Knockout Concepts.
It said Rama was spearheading the Right To Live Peace Campaign as an add up to efforts being made by institutions, organisations, the Government, NGO's and other agencies to promote peace in the country both before and after Election 2012.
She pointed out that peace was not merely the absence of war and hatred but the presence of cooperation, compassion, understanding as well as truthfulness and pledged to use her position as a beauty queen to make Ghanaians and Africans aware of this as well as spread the campaign across the West African Sub Region.
Rama's campaign, an initiative of the Right To Live Office is made up of series of activities including, a seminar for school pupils across the country, where a resolution would be passed and presented to Vice President Mahama together with a Rama and a VIP/Celebrity Message, where known personalities from all walks of life will give a short message on the need for peace in the country. This will be aired on both radio and television channels across the country.
Rama will host a Queens Ball at the Banquet Hall on Kwame Nkrumah's birthday, which falls on September 21, to bring together politicians and political heads to wine and dine and send a message of solidarity for peace to Ghanaians and the world.
The rest are a bulk SMS to the mobile phones of millions of Ghanaian electorate every month from June till January next year on the need for peace in Ghana.
Rama said Ghana had come a long way in her political history and should not negate on her democratic credentials, adding that, " Election 2012 is another litmus test to prove to the world that we are indeed the Gateway to not only West Africa but the entire African continent".
She hoped to get the support of each and every Ghanaian, be it an individual or a corporate entity to make her dreams and objectives for this campaign a reality.
Rama has recorded a theme song for the campaign, which features music giants, including Richie, Zigi, Trigmatic, Iwan and J Town.
The video for the song titled "I wanna live" is currently on rotation on Multi TV and would will hit other television channels soon. The campaign is being managed by Canadian franchise event, media and marketing house in Ghana, Knockout Concepts.
GNA