June 8, 2012
|
Editorial
JJ'S LIST OF TRAITORS (3)
The Al-Hajj's Exclusive Archive from 1979 to Date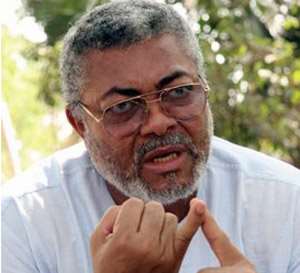 On January 11, 1982 when then Flight-Lieutenant Jerry John Rawlings, by the PNDC establishment proclamation announced on radio and television provision for an eleven member council, only seven names were mentioned.
These are; himself, Flight-Lieutenant Jerry John Rawlings as Chairman, Brigadier Joseph Nunoo-Mensah, the Rev. Dr. Vincent Kwabena Damuah and Warrant Officer Class 1 Joseph Adjei Boadi. The rest are Sergeant Daniel Alolga Akata-Pore, Joachim Amartey Quaye and Chris Bukari Atim.
However, by the end of December the same year only two members remained, Jerry Rawlings and Warrant Officer Class 1 Joseph Adjei Boadi.
Brigadier Joseph Nunoo-Mensah, who had earlier retorted; 'to-hand-over-to-whom' to the Nigerian media who enquired from him in the early days of the 31st December coup, when the PNDC was going to hand over power quit the government under bizarre circumstances and had to seek refuge in the American Embassy for fear of his life.
The other four members also left within one year of the Rawlings' coup in 1982, some of them due to ideological differences. In the case of Joachim Amartey Quaye he was executed for his involvement in the murder of three senior judges and a retired army officer whiles Rev. Damuah who had been suspended from the Catholic Church because of his involvement in the government left to start his own church later the Afrikania Mission, an organization devoted to the promotion of African Traditional Religion.
On November 23, 1982 PNDC member, Sergeant Akata-Pore and others were arrested and later put on trial when armed men succeeded in capturing for a while, part of Gondar Barracks at Burma Camp, but some them managed to escape from custody on June 19, 1983 as part of that day's attempted coup d'etat led by Sergeant Abdul Malik and Corporal Carlos Halidu Giwa.
At 59 now, Chris Bukari Atim, one of the seven original members of the PNDC and currently Executive Director of the African Health Economics and Policy Association (AfHEA) and a senior health economist at the World Bank health systems hub in Senegal, also resigned and flee the country in 1982.
Subsequent appointments were further made to the PNDC. Mr. Ebo Tawiah, Mrs. Aanaa Enin, Nandom Na, Naa Polkuu Konkuu Chiiri were added to the Council by mid-1984. Alhaji Mahama Iddrisu replaced Naa Polkuu Konkuu Chiiri who died on August 25 1984.
Others appointed to the council in 1984 are Mrs. Susan Alhassan and Justice D. K Annan. The PNDC was further expanded when two new members were appointed - Captain (Rtd) Kojo Tsikata, who had previously been the Special Adviser to the PNDC, was now PNDC member responsible for Foreign Affairs and National Security, and P.V. Obeng PNDC Coordinating Secretary and Chairman of the Committee of PNDC Secretaries.
By the end of year 1985, Major-General Arnold Quainoo, and Brigadier Mensah-Wood were brought on board the PNDC as members. Air Marshal A. H. K Dumashie and Dr. Mrs Mary grant were the last batch of members of the PNDC until it was dissolved on the 7th of January 1993.
Three people who played key roles in Jerry Rawlings' second coming as Head of State and, or in administering the country, especially between the turbulent periods of January 1982 to end of 1985 are Mr. P.V Obeng, Captain Kojo Tsikata and Brigadier General Joseph Nunoo-Mensah.
Today, with the exception of Brigadier General Joseph Nunoo-Mensah, the two, Mr. P.V Obeng and Captain Kojo Tsikata are among the people referred to by Rawlings as, 'greedy bastards' and traitors.