Two Communities Clash Over Murder Of Clan Head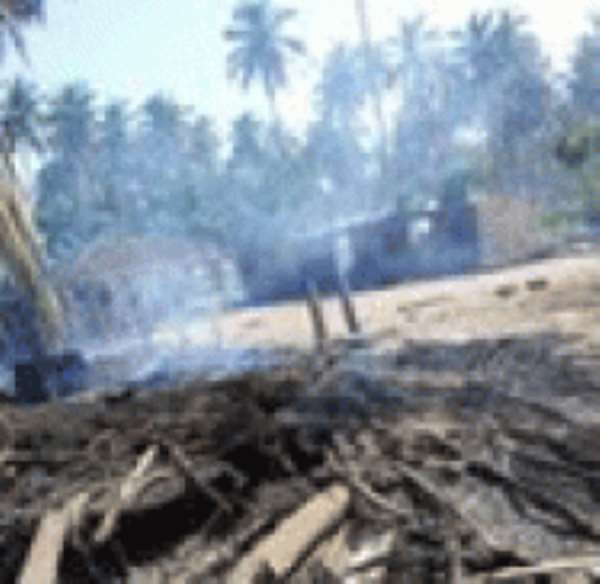 Smouldering dwellings at Ekumfi Narkwa after the clashes
Smouldering dwellings at Ekumfi Narkwa after the clashes Three persons have died in ethnic clashes between Fanti and Ewe communities in Ekumfi Narkwa in the Central Region, following the murder of Nana Kojo Eguasia, head of the Nsona Clan of Narkwa.
Three others who sustained gun shot wounds are receiving treatment in hospital while a number of houses have been burnt down.
Fighting broke out between the two communities, when the headless body of Nana Eguasia was found buried in a shallow grave on his coconut plantation by a search party Wednesday.
Reports say the fighting started when some Fanti youth started torching houses of the Awuna community on suspicion that a some members of that community had murdered Nana Eguasia.
Seven houses at Narkwa were razed down and in retaliation, the Awuna youth went on rampage attacking the Fanti community.
The assemblyman for Ahenbrom Kokodo (Narkwa), Mr. Emmanuel Hope told graphic.com.gh that Nana Eguasia left the house early on Wednesday for his farm.
However, he did not return at his usual time around 5.pm that day.
He said around 6 pm his wife, Madam Efua Assumanba, informed him about her husband's unusual lateness and called for a search party to trace him.
He said after a long search, the party found Nana Eguasia's body in a freshly dug grave, covered with leaves.
The police were informed and the body was conveyed to the Central Regional Hospital.
The Mfantseman Municipal Police Commander, Assistant Superintendent of Police, Mr. David Ashong said the police have began investigations into the matter.
Meanwhile, the Central Regional Minister, Mrs. Ama Benyiwa Doe has visited the community and impressed on the people to remain calm while the police carry out investigations into the case.
She also visited the injured at the Central Regional hospital.