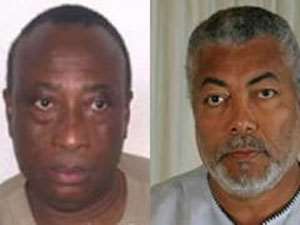 Major Kojo Boakye Djan (rtd), National Democratic Congress (NDC) parliamentary candidate for Jaman South in the Brong Ahafo Region, has waded into the ruling party's conundrum,  asking the founder, Jerry John Rawlings, to leave the party if he so wishes.
Major Boakye Djan,  a co-actor of the June 4 Revolution, told former President Rawlings that the NDC would survive and go ahead to win the December polls without his efforts.
He therefore asked the NDC founder to leave the party if he was not happy with the actions of its leadership.
Speaking at a counter June 4 celebrations held by the NDC at Atebubu, Major Boakye Djan said he was the principal actor of the June 4 Revolution and that former President Rawlings was only made a ceremonial head.
He therefore dispelled the claims by Mr. Rawlings that he brought about the June 4 revolution.
According to Boakye Djan, if Mr. Rawlings wanted to go and partner with the main opposition candidate, Nana Addo Dankwa Akufo-Addo and campaign against President Mills, he could do so but he would surely come back to the NDC later like other run-away members of the party such as Dr Obed Asamoah and himself, who deserted the party for several years.
The retired army officer who went into exile during the Rawlings era said he was writing a memo to President Atta Mills to issue a decree to make June 4 a national holiday, claiming that the revolution had come to put justice in the fiber of Ghanaian society.
Boakye Djan bragged that he would win a landslide victory in Jaman South and would do everything possible to stop the NPP from winning a single polling station in the constituency.
It will be recalled the people of Jaman South called for the head of Mr. Boakye Gyan for allegedly demolishing a Roman Catholic School building at Babianeha, near Drobo, thereby displacing over 360 school children.
Most of the school children are currently staying at home due to the lack of structures to accommodate them.
Advertisement
Also speaking at the same ceremony, the Brong Ahafo Regional Minister, Kwadwo Nyamekye-Marfo, chose to use the celebration to attack DAILY GUIDE .
He claimed that the paper had launched a consistent attack on his hard-won reputation, saying, 'Somebody wants to use the stroke of the pen to destroy my hard-won reputation for several years.'
Mr. Nyamekye-Marfo insinuated that that the right time would come for him to act on the deliberate media attacks on his personality.
 FROM Fred Tettey Alarti-Amoako, Atebubu