WE ARE FED UP WITH THE LIES – CPP TELLS THE UP TRADITION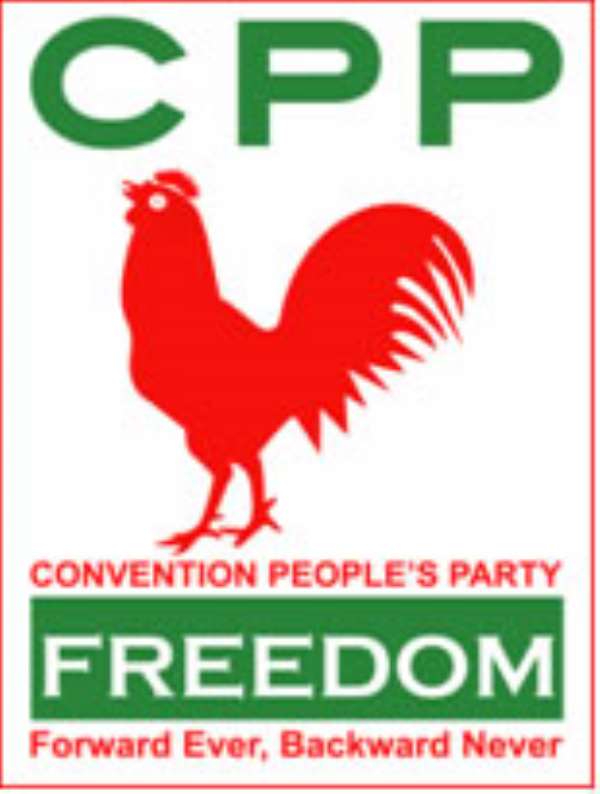 We are fed up with the lies by some members of the UP tradition which is aimed at destroying the image of Dr. Kwame Nkrumah and the ever living CPP. We the concern members of the CPP in the Ashanti region have realized that some persons in the UP tradition are feeding the public with lies. They use radio stations to do this in the name of their so called social programmes. We want these people to know that if they are not ready to give praise where it is due, they should leave the Nkrumah alone.
We have observed that on days which the international community want to celebrate the achievements of the Osagyefo, these people go on air to lie about the history of Ghana in an attempt to destroy the CPP. Examples of such days are AU day, Independence Day, Republic Day, Founders Day in Ghana, etc.
An example is what a radio host Addai Gyateng did with his panellists on the 26th may, 2012 on Nhyira fm. They misinformed the general public that Nkrumah used his Liberation Fighters as a subversionary tool to plot and execute coups against his fellow African leaders who did not agree with him. They also said he bribed some African leaders in order for him to become a life African President. They continued to say that Nkrumah used fraudulent means to win the volta region during the 1956 plebiscite. One of the panellists, Pastor Taaba Taaba is known for this for about ten years now. He goes on radio and churches and the likes to spew these rotten lies.
We are concerned for the repetition of history that we see; it could be recalled that it was these same provocative lies that caused a conflict in 1954 when the 'mate meho's' lied to the Leaders of Asanteman that Nkrumah wanted to take the Golden Stool. This conflict which took the lives of hundreds is one of the various reasons for which we draw this caution in order to prevent the recall of that event as a mere rehearsal.
We are a peace loving people and would be the first to rise in protection of the peace and security of Ghana as we approach the December polls but let not our meekness be taken for weakness. It is our hope that even if the media have decided not to give us equal opportunity on their platform, they provide us with a little space during such period as mentioned above and especially as we are in an election year. We call on all to join forces with the CPP to make this years election a peaceful and memorable one.
SGD
Djagbletey Jacob – concern member – 0206561767
Peter Amankwa – Asokwa constituency secretary – 0277169963
Isaah Abu-Bakr – Menhyia , youth organizer – 0248274494
Ayayi Emmanuel – TESCHART president, k'poly - 0266517331