UNPRECEDENTED CALAMITIES UNDER PREZ MILLS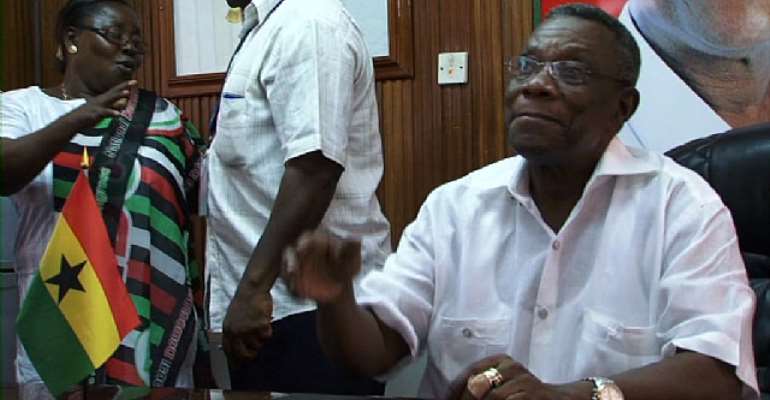 "Ghana! A country blessed with unique people with multi divergent views on; politics, religion, ethinicity, tribe, language, culture, music, food, and so on and so forth yet we have a common destiny which binds us together like a hide of a bee".
Our strong religious background which stem from Islamic, Christianinity to whatever makes us to tolerate one another amidst incessant provocation.
The last four years under the able leadership of the Professor John Evans Fiifi Atta Mills,there has been many happenings in our country both positive and negative.
But for the sake of this write up, I would want to tune our mind on something that, perhaps we have not given audience to nor has not yet don on us due to many factors
Let us tune our minds to the 2008 Electioneering Campaigning period where the various political parties' criss cross our dear country to win our trust so to govern us.
The then NDC candidate, Professor JEA Mills was seen wearing a ring, all over the place he went.
After the elections we heard a lot of hard rumors about the said ring, but people could not dig deep into it as usual of a Ghanaian, will hype the issue but to no conclusive end.
Four years down the line, many things are happening, which, is my reason to write this very piece in the form of questions.
There has always been calamities whether by fire, car, airplanes, flood, suicides, murder in any country.
But, I wonder and still cannot phantom the rate at which these are happening with the lighting speed.
So the mind boggling questions are; where is the ring our president was wearing was that ring a collateral security between the president and the giver of the ring for political power?
Why are we experiencing unprecedented deaths on our roads on minutes' basis, spousal killings, and suicides almost every other hour?
Let me chronicle some few fire out breaks which has caused the nation over the past three years; ministry of foreign affairs, information ministry, TOR, all major markets, recreational centers such as Doddi Boat on the Volta lake! Aren't all these raises spiritual concerns, where are the men of The Most High God, why are they quit?
This is not to say that, these things have not happened before, but it is becoming just too much in the history of our country to see such things occurring on daily basis with another strange accident by the Allied Cargo Aircrafts killing innocent souls.
We cannot sit down unconcern with the Ghanaians mantra oooh "Fama Nyame" while our people who will or are very dependent are dying innocently.
Let all of us, begin to find solution to these things because; it is so strange and unusual having serious spiritual connection than we think it is now.
The question again is where was the ring the then, candidate Mills now President of the republic wore during the elections 2008?
Was that ring an exchange for power and what are the consideration for the power to the nation thereof?
Has the calamities in recent times got something to do with the ring?
People who have answers to the above should give direction so that we can save precious lives that are perishing on a daily basis!
Let us know the where about of the ring you wore, President!!!
OHENE AGYEKUM
[email protected]