Sudan, S.Sudan defence ministers meet on border security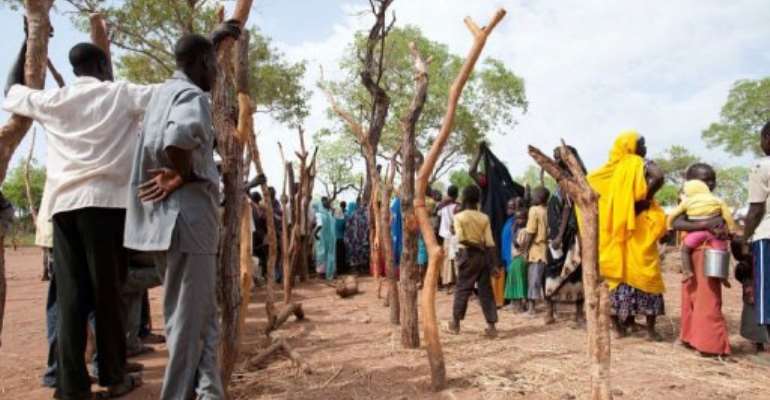 ADDIS ABABA (AFP) - Defence ministers from Sudan and South Sudan met on Monday to discuss border security following weeks of deadly fighting along their disputed frontier, even as reports of violence continued.
South Sudan's Defence Minister John Kong chaired the meeting with his northern counterpart Abdelrahim Mohamed Hussein, who is wanted by the International Criminal Court for alleged war crimes in the separate Darfur region of western Sudan.
The ministers are part of African Union-led talks on the crisis that are being mediated by former South African president Thabo Mbeki.
Delegations from both countries have been holding talks in the Ethiopian capital following heavy clashes last month that took the foes to the brink of all-out war.
Monday's meeting was expected to include discussions on setting up a demilitarised border zone, but South Sudan's chief negotiator Pagan Amum said Sudanese air strikes continued.
"(We are) calling on Sudan to respect the UN Security Council resolution, to implement it, stop aerial bombardment, stop attacking South Sudan, cease hostilities and talk in good faith," he said.
Sudan has repeatedly denied the South's reports of air strikes and Amum did not give details on the reported attacks.
The talks kicked off last week with the South accusing Khartoum of violating an AU plan calling for the cessation of hostilities and a troop withdrawal from the contested Abyei region.
The South's Foreign Minister Nhial Deng Nhial and Sudan's Interior Minister Ibrahim Mahmud Ahmad were also at the meeting.
Ahead of Monday's meeting, Nhial accused Sudan of failing to comply with the conditions laid out in the AU ceasefire plan, which were endorsed by the United Nations.
"South Sudan responded quite promptly to all the actions that were demanded by the AU road map -- Khartoum hasn't done that," Nhial told reporters.
Amum said two battalions of Sudanese police remained in Abyei.
"This is actually a very lethal force composed of operatives of national intelligence and security forces," he told reporters while the meeting was in session.
But Omer Dahab, a member of Sudan's delegation to the talks, repeated Khartoum's insistence that all its troops have left Abyei, adding that he was optimistic Monday's talks would be constructive.
"We are hopeful these issues will be addressed in a very genuine and action-oriented way," he said before the meeting opened.
It was not clear how long the security talks would continue, but Nhial said the South would be there "for as long as it takes."
"We are always optimistic, you have to be, because it is optimism that fuels hope and hope helps you achieve success," he said.
Sudan and South Sudan fought a bloody civil war that ended with a peace deal in 2005 after more than 20 years of fighting. Juba split from the North in July, taking with it 75 percent of the region's oil.
The two sides remain at loggerheads over a number of issues, including oil-transit fees and border demarcation.