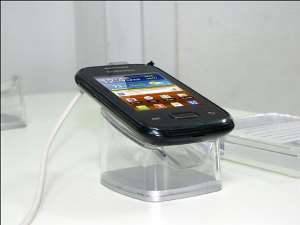 Samsung Electronics, a global leader in digital media and digital convergence technologies, has introduced the Samsung Galaxy Pocket, an affordable smartphone, into the Ghanaian market to meet the needs of budget-conscious Ghanaians.
"Galaxy Pocket offers a smartphone experience for even more consumers at an affordable price. As Samsung continues to innovate in the mobile world in 2012, our goal remains to provide consumers with a variety of smart devices designed to fulfill their needs," Mr Brovo Kim, Managing Director Samsung Electronics West Africa Ghana Office said.
He said the phone was built as part of Samsung Built for Africa initiative, which involves looking at global products and adapting them to suit African conditions.
Mr Brovo said the Galaxy pocket would offer rich experiences, especially to the young people who, always want to be in touch with friends through social media platforms.
The Samsung Galaxy Pocket is the most basic offering in the company's current Android portfolio. It comes with a 2.8-inch display and an 832MHz processor.
It runs on Android 2.3 Gingerbread enhanced with the usual set of Google applications, Samsung's ChatON service, and a TouchWiz user interface.
Besides, users get a 3.6Mbps 3G radio, Wi-Fi, A-GPS, and 3 gigabytes of internal memory, a card slot for expanded the memory, which supports up to 32GB memory which is very huge for storing data and multimedia section on it.
Advertisement
Mr Tetteh Akornor, Product Manager, said user can easily download the needed application and software from android market place, adding that Samsung was working with local content regulators to ensure that users of the Galaxy pocket were able to download Ghanaian music from Samsung onto the phone.
He said connecting and sharing are quick and easy with the phone's social networking and communication features.
He said the Galaxy Pocket allows users to make fast downloads while the Samsung's Chaton cross platform communication service is able to connect all phone users into a single community, enabling spontaneous messaging, group chatting and content sharing in multiple formats.
In addition, social hub allows users to see their instant messaging, social network and email communications in a single inbox for added social convenience.
Mr Frank Atta Owusu, Service Manager said the phone is covered by a 24 month warranty.
Samsung is partnering MTN to offer buyers of the Galaxy Pocket phone a 500 megabite of data for internet access for a month.
Samsung currently controls about 71 percent of the smartphone market in Ghana while volumes in all categories grew 10 times from 4 percent in 2010 to nearly 40 percent currently.
GNA