153 feared dead as plane hits Lagos building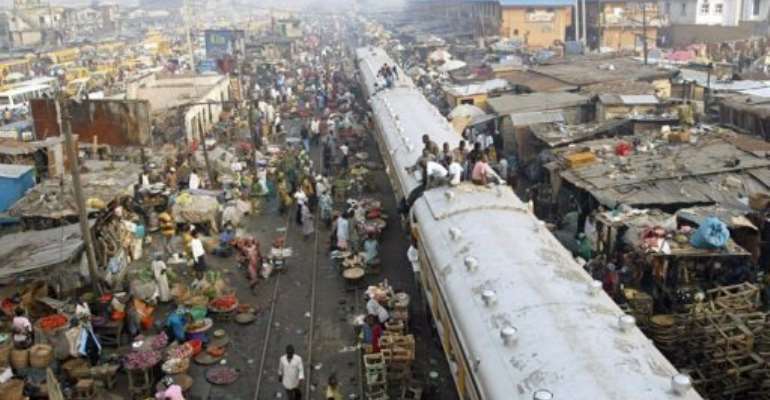 LAGOS (AFP) - More than 150 passengers are feared dead after their plane crashed into a two-storey building in Lagos Sunday, an aviation official and residents said.
Thick smoke rose from the area near the Lagos airport and flames could be seen coming from the building. Residents said the plane had been coming in low, making a loud noise, when it slammed into the residential area.
"It was a Dana (airline) flight out of (the capital) Abuja to Lagos with about 153 people on board," Nigeria's head of civil aviation Harold Demuren told AFP.
Asked if anyone likely survived the crash he said, "I don't believe there are any survivors."
Lagos State police spokesman Joseph Jaiyeoba told AFP the plane went down in the Iju neighbourhood on the mainland of the city where the bulk of the city's population lives.
Hundreds of residents swarmed the area to see what had happened.
"It was flying low with a lot of noise for about five minutes before it crashed into the residential area," one resident said. "It then burst into flames."
A spokesman for Nigerian airline Dana confirmed one of its planes was involved in the crash but could not immediately provide further details.
"I can confirm that one of our planes crashed today on the outskirts of Lagos," Tony Usidamen told AFP. "We lost communication with the aircraft. We are going to issue an official statement."
The Allied Air cargo plane had departed from Lagos and was to land in Accra.
Nigeria has a spotty aviation record, though Dana has been considered to be a relatively safe domestic airline.
It began flights in 2008 and had been operating up to 27 daily flights.
Dana Air started operating in November 2008 and today is one of Nigeria's main airlines, flying a fleet of MD-83 aircraft, according to information on its website.
Its aircraft make daily flights between Abuja, Calabar, Lagos, Port Harcourt and Uyo.
Lagos, the largest city in Africa's most populous nation, is home to an estimated 15 million people. Built around a lagoon on the Atlantic coast, it is thought to be the largest city in Africa.