Freddie Blay Assures Ghanaian Women – Nana's Free Education Attainable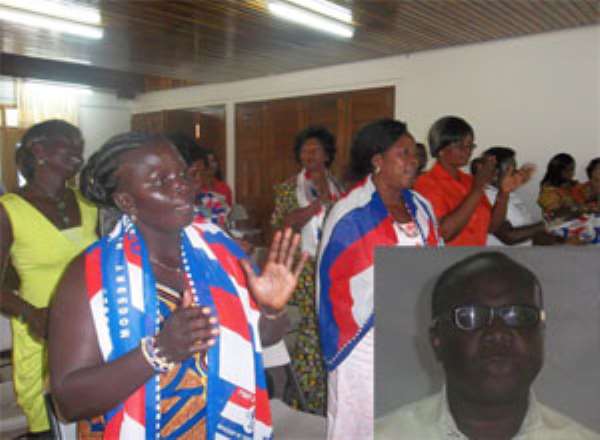 some of the constituency women's executives. Inset: Hon Freddie Blay
FORMER DEPUTY Speaker of Parliament, Freddie Blay has assured Ghanaian women that Nana Akufo-Addo's vision to make secondary education free is attainable.
It only takes a leader who believes in the capacity of Ghana to achieve it, he said.
Addressing women executives of the New Patriotic Party (NPP) from the 22 constituencies of the Western region at Takoradi on Thursday, the former MP for Ellembelle told them Nana Addo's vision is achievable and geared towards lessening the plight of women in educating their children.
'I am a member of the national campaign team of the NPP and I can tell you that the party is bent on ensuring that Nana Addo's proposed education policy is implemented when the party wins the December general elections,' he noted.
Mr. Blay's assurance follows criticisms by some 'doubting Thomases' in the country that feel the initiative as overly ambitious.
He expressed regret that under the current NDC government, women were at the receiving end of all sorts of atrocities and the government seemed not to do anything about it.
Mr. Blay who is also the Patron of the regional women's wing described the recent alleged butchering of women by their husbands in some parts of the country as unfortunate and attributed it partly to the fact that the current NDC government had mismanaged the economy and brought untold hardship on the people.
He told the executives that Nana Akufo-Addo was committed and dedicated to ensuring that the NPP wins the 2012 general elections to deliver Ghanaians from the current economic hardships, hence his adoption of the house-to-house campaign.
He commended the women for their sacrifice and hard work towards the success of NPP activities in their respective constituencies and challenged them to continue to enlighten the electorate on why they should vote for the NPP.
'I assure you that the NPP will empower women to become economically okay to enable them work and fend for their families,' he added.
Joyce Zempare, NPP Greater Accra Women's Organizer said  the plight of women in the country had worsened within the last three years, and blamed the ruling party for doing nothing to improve the living conditions of the women.
She noted the NPP under former President John Kufuor was able to give to women entrepreneurial skills and provided them with capital in the form of soft loans to enhance their businesses.
On her part, Joan Abena Kwallah, the party's Western Regional Women's Organizer averred that over time Ghanaian women had become more disillusioned with the Mills/Mahama administration and were hoping for a change in government.
The women promised to sweep up the majority of votes in their constituencies in both the parliamentary and presidential polls.
 From Emmanuel Opoku, Takoradi