NDC UNITES ON JUNE 4th Thanks to NAADU and NANA KONADU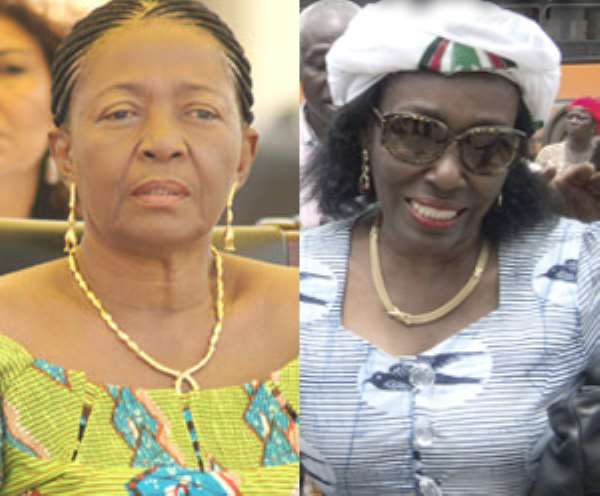 NDC members in the diaspora along with well- meaning ghanaians overseas have managed to piece together a workable template that is acceptable by both sides of the NDC divide ahead of the 2012 general elections. In a communique placed on review, it became evident that the Ghanaian media which is 90% run by NPP sympathisers and those that were given licenses to operate Radio /TV/Media houses in Ghana have truly succeeded in widening the cracks within the NDC party in what is now an out of control frenzy. The Ghanaian Journalism spectrum has been infested with persons that seek selfish gains irrespective of the damage or destructive effect it would have on the nation as a whole is one of the Conclusions arrived at by Concerned Ghanaians in the diaspora many of whom form community leaders of the Ghanaian communities in countries such as Italy, France, Germany, Holland , UK and Ireland , and some Scandinavian countries that conferred virtually thanks to SKYPE Technology.
Spokesperson for the group Dhr. Kwame Kwafo stated that in reviewing the state of affairs of the nation as of April 2012, it became evident that the personalities at the realms of affairs (Government) have failed to work as a team, to lead the nation onto a peaceful path of peaceful development, by being lax about the running mouths of radio presenters and callers that only call to incite others without being mindful of the choice of words permittable on air. Politicians today have also failed to respect the code of ethics as to what is classified information and what is not , and therefore today Ghana finds itself at a crossroads. The 2012 elections will be a trying times for Ghana on all fronts because the stakes are high and foreign interests in our nation's wealth has become paramount to world growth.
Radio station operators must be held accountable to what they permit on air, and a watch-dog group placed to enlighten listeners and the Ghanaian populace that if a Radio station permits its medium to be used to create hate / tribalism / inciteful comments, etc etc then consumers that buy products or services advertised on these radio stations are themselves contributing to that selfish destructive path these presenters choose to take.
A delegation of NDC /NPP Members and their sympathisers in the diaspora and other Party members and Ghanaians seeking the best interest of the country Ghana flew to Accra ahead of the 4th June celebrations, with what has been endorsed as an acceptable template by both sides of the NDC divide, and has been well received by all. A gag order placed on the NDC executives about this is being respected and applauded by all, notably the offices of the First Lady of Ghana Mrs Naadu Mills and that of former First Lady Mrs Nana Konadu Agyemang Rawlings have all shown and are showing great signs of cooperation for the first time in the interest of Ghana's National interest, because it's very evident the common denominator for us all is the nation Ghana and how we develop on the principles of accountability and probity by all Ghanaians. Ghanaian's in the diaspora, have been very instrumental in the development of our beloved nation Ghana per our continuous remittance and support to and of family in Ghana, bringing in investors to create job opportunities and services etc have all gone a long way to also influence elections , therefore making the mandate held by Diasporans a rather crucial one, though governments come and gone have failed to create a platform (office) within the Ministry of Internal Affairs to accommodate Diasporians concerns/affairs.
Mr Richard speaking from the Netherlands, said he was utterly disappointed at the NDC leadership and especially at Mr. Kofi Attoh who has failed miserably to build a strong consortium of Diasporans that he could work with to address the concerns of Ghanaians in the diaspora. He went on to express the fact that the NPP government started a project which could have been a viable source of revenue to the Government if the current leadership were bold to embrace it, because this would have set the Ghana Foreign missions abroad to truly be put to work by making sure that vehicles being shipped/imported into the country can have all the Import Taxes paid directly to the Ghana Embassy in the said country where these cars are to be shipped from, so that the importer would only have to pay handling charges upon arrival in Ghana. This , he elaborated, could have been a resourceful foreign exchange earner for the Country. Kofi Attoh has not initiated anything at all that the portfolio he holds can show to highlight the true essence of that portfolio he concluded. Finally the group expressed grave concern at the current state of affairs within Party and governance but were quick to applaud the maturity shown by the NDC leadership in adhering to the efforts by Ghanaians in the diaspora to foster peace and harmony within the Country.
Core NDC members agreed on the following : ** Return to the core principles of the NDC party ** Cease all attacks and the blame game internally (party) and externally ** Create an enviroment that fosters TEAM WORK and TRANSPARENCY ** Above all hold the National Interest in the highest esteem in all undertakings to define who we are as Ghanaians. NPP members present applauded the initiative and promised their unflinching support in the interest of the Nation, but also refuted the notion that their flag bearer was being secretly funded by the CIA , and that Ghanaians overseas should be placed strategically in the equation of Ghana's development (nation building) , as many out here in the diaspora have attained skill sets that can be very useful to our deployment process as well as negotiations of contract etc that can enhance our socio-economic development. For a fair and peaceful 2012 elections all present agreed that NDC and NPP should get their act together , and make a fair presentation to the Ghanaian people so that the electorate can decide. June 4th 2012 should go down in the history of Ghana, as the day the peace pipe was smoked, because Ghana deserves better., the Chinese interest group and the USA interest group not to mention the EU interest group all hold stakes in our nation, and surely none in our own interest, because to them it's all about economics (money or what they can get from us Ghanaians) so Ghanaian politicians must wake up and start to represent our interests and that of our future leaders/grand children today. June 4th celebrations this year should be a day that Ghanaians look back to the days and events that led to the June 4th revolution, and the ideals and principles that Ghanaians embraced to help shape our nation into a country of people able to stand up against corruption and treason. Same principles to which Ghanaians in 2008 stood by to enable NDC win the elections.
We welcome suggestions / views / opinions aimed at enhancing this working template for the general interest of all Ghanaians home and abroad , for we are all Ghanaians first before party politics and today Ghanaians need a stronger leadership equation able to give us all reason to be proud dignified Ghanaians.
LONG LIVE GHANA.
This group made up of Ghanaians in the diaspora from all walks of life and political affliliations is being put together under the name FACE2FACE GHANA.
>>> Contact: [email protected]
>>> 31st May 2012