No Violence In Junior Doctor's Death - Autopsy Report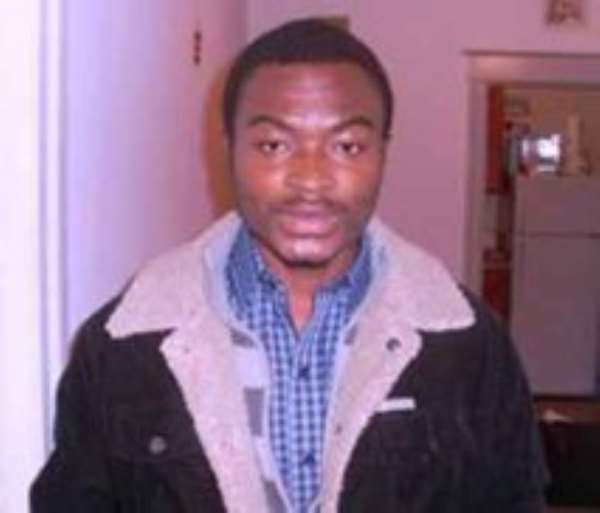 The late Dr Desmond Kabah
The first autopsy report on junior doctor, Desmond Kabah, indicates there was no violence, Eddy Annan, Board Chairman of the Korle-Bu Teaching Hospital has disclosed.
Dr Kabah, 27 years old, was found dead in his room, number 42 on the third floor of Block N, which accommodates house officers at the Korle-Bu Teaching Hospital, about 7pm Sunday.
Blood stains were found in his left armpit, scrotum, bruises on the left leg and blood was oozing from the nostrils.
The deceased's bed sheet was also soaked with blood.
Mr Annan, speaking in an interview on Joy FM's Super Morning Show, said the body of the deceased was found two days after he died and ants had invaded the body.
He said the fact that blood oozed from some parts of the body created the impression that there was foul play.
Preliminary reports, he said, indicated "clearly there was no sign of violence."
He added that one more report was outstanding and that the right conclusions could be drawn once that was released.
Meanwhile junior doctors who say they live in fear following the death of their colleague have declared an indefinite strike.
This was after management failed to meet a 24-hour ultimatum to improve tsecurity conditions their residence.
But Mr Annan said it would be better for the doctors to engage with the authorities to find a lasting solution to their concerns.
"Yes, there's been a problem there, nobody wants anybody dead. Their demands are being adhered to."
The Board Chairman said some policemen have been deployed there and that tall trees which cover the street lights are being cut down.
"They want 24-hours result, it's not possible.
"At least you (the doctors) have seen that the administration is doing something so why do you go on strike?" he asked.