REDEFINING THE MEANING OF VOLUNTEERISM – THE LEADERSHIP ANGLE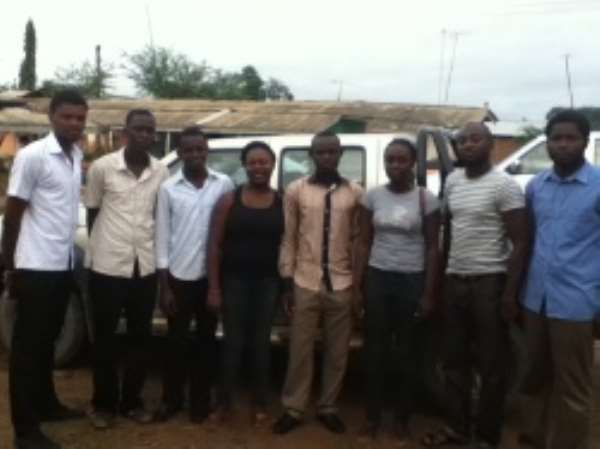 From left; Saddique Salamanu, Kulai Amadu Manigbe, Joseph Opoku, Ernestina Garbrah, Michael Boakye, Audrey Gambrah, Richard Antwi and Saviour Okine
"If your action inspires others to dream more, to learn more, to do more, and become more, then you are a leader." Those are words from one of the participants who attended US President Barack Obama's forum with Young African Leaders in August 2010 which saw the participation of young Ghanaian achievers like ace investigative journalist Anas Aremeyaw Anas, Citi FM's Shamima Moslem and others. Those profound words found their way onto the script of the US President in the speech he delivered to climax the forum, and it has since become such a famous quote on the lips of many. That quote is self explanatory. Being a leader is not just an exercise in winning an election, or earning a promotion, or taking up a higher appointment; if it was just about any of these, leadership would have been too cheap an undertaking. In the real sense of the word, leadership is about making things happen, it's about taking responsibility for the advancement of your neighbor, and it's about watching a fellow homo sapien's back even if that human being is neither your family member nor your friend nor a tribesman.
So, a day after we returned from a two week "tour of duty" in rural cocoa growing communities in the Mpohor Wassa East District of the Western Region, I related Tamara Banda's words in a text message to volunteering Kwame Nkrumah University of Science and Technology students; Michael Boakye, Saddique Abubakar Salamanu, Kulai Amadu Manigbe, Saviour Okine, Richard Antwi and Ernestina Gyebi Garbrah. I described them not just as leaders, but as 'great leaders' whose talent and passion the world would forever be hungry for, to put to use in the construction of a healthier tomorrow. These colleagues travelled with Cadbury Cocoa Ambassadors operating in the district – Joseph Opoku Gakpo and Audrey Kareen Gambrah – on a voluntary program to Sekyere Krobo, Sekyere Aboaboso, Sekyere Abroadzewuram, Sekyere Hermang, Ekutuase, Atobiase, Akotosu, and Dormam Nyamebekyere to help with the academic work of school children there, mentor them, and stir them up to aim for higher learning. They facilitated activities of Cocoa Reading Clubs in the schools, organized quiz competitions, held pep talk sessions, and undertook reading and article writing exercises with the school children, among others. They also addressed youth fora in the communities on the need for the young people to get interested in taking up the available business opportunities that exist within the cocoa value chain, and to build an understanding with them on what would motivate them to get interested in cocoa production as a sustainable employment opportunity. Their visit had inspired the youth and children in the communities to dream more, to learn more, to do more, and become more, and that is what makes them great leaders.
For God and country, these KNUST students offered themselves to make the close to six hour journey, to go live and labour in a land one of them described as "strange", at no benefit to their pockets. For God and country they passed nights in the residence of complete strangers they have never known nor met all of their lifetime. For God and country they completely altered their way of life in the way they eat and drink for a fortnight, just to be able to impart the lives of rural children whom they have absolutely no relationship or connection with. For all the knowledge, wisdom and passion for excellence these KNUST students helped infuse into the lives of the young people in these rural areas, I can't help but call them "great leaders."
They represent that brighter spot of our black continent's struggle for triumph that is always overshadowed by greedy, voracious, and wrongly inclined leaders who offer nothing but destruction and obliteration. They represent the selfless, benevolent batch of African youth who are passionate about the need for us all to be our brethren's keeper; who have refused to fold their arms and watch unconcerned as the balance of scale for opportunities continue to weigh against the rural folk. They represent the kind few who are always unwilling to turn away their faces when the admonishment is made on all mankind, to stop pretending that it is someone else somewhere who would somehow make change happen. They believe that they are the ones who are called to duty when a child fails to pass his Basic Education Certificate Examination because his English teacher refused posting to go teach in a rural community because of the absence of basic social amenities. They believe they are the ones who are called to duty when a little boy wakes up one morning and threatens his mother he would retaliate with an iron fist if she attempts forcing him to go to school, because that boy lacks a clear understanding of the reality that in this 21st Century, one's destiny is inseparably tied to how much knowledge you have been able to acquire, and not how much physical strength you have.
These colleagues are the Kwame Nkrumah, Nelson Mandela and Martin Luther King of our time, even if their efforts lack the enthusiasm and zeal that characterized the liberation struggles of the days of our forbearers. But there are another group of heroes that I cannot end this piece of writing without acknowledging. I speak of the hospitable, warm, caring and dedicated residents in the rural communities who have shown repeatedly that they would always be ready to accommodate any discomfort and uneasiness as long as it is the interest of their children which is at stake. They showed us through how they affectionately received us in the communities that they hold in high esteem the responsibility bestowed on them by God to take the lead step in nurturing their children, even though they don't have enough to take care of themselves.
Despite their huge contribution to Ghana's economy through the valuable cocoa pod they produce, these communities are some of the poorest you can find on the continent. They have some of the worst road networks in the country, as evident on the gullied road stretch between Saakyi and Ekutuase, in which our vehicle almost stuck while we made our journey into the communities. They lack adequate clean water, to the extent that school children sometimes drink directly from streams and other untreated running water sources, as we witnessed at Atobiase where a beautiful young girl of about 8 years old could not help but ignore our caution not to sip, as she scooped with her hands and drank brownish coloured water from the "Subri Stream" to quench her thirst. Most of these communities are still yet to see electricity and you have to climb hills before you can get hold of mobile telephony network. But these rural people have not given up yet, they still hold onto the belief that God has since stopped descending down from heaven to intervene in the affairs of men, but rather uses human beings, hence they continue to look up to the intervention of visitors in their socio – economic development with hope, and the volunteers gave them reason to continue on that course. For their work of faith, the labour of their love, and the patience of their hope, may God richly bless them.
By Joseph Opoku Gakpo, Student, Kwame Nkrumah University of Science and Technology