Nigerian university lecturers end long-running strike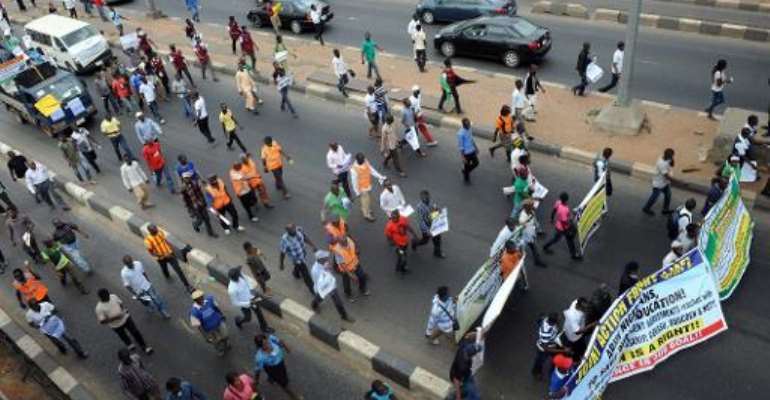 Lagos (AFP) - Nigerian university lecturers on Tuesday called off a long-running strike that paralysed higher education in the country, after they reached a temporary truce with the government.
Members of the Academic Staff Union of Universities (ASUU) walked out in July over claims that the government had failed to implement a 2009 agreement to improve their welfare and upgrade facilities on state-run campuses.
Union leaders said they had received proof that the government had deposited money in a campus development fund and were therefore ready to return to work.
"We implore our members to go back to class and the government to keep to every part of the agreement," Karo Ogbinaka of the ASUU national executive committee told the private news station Channels.
Ogbinaka spoke after the executive committee met in the central city of Minna.
ASUU chairman Nasir Fagge was expected to address a news conference later on Tuesday.
The dispute in part centred on a government pledge to refurbish Nigeria's decaying public universities with 220 billion naira ($1.3 billion, 940 million euros) of investment over the next five years.
The government has reportedly deposited a significant portion of those funds at the central bank and provided ASUU evidence of the bank transfer, a key move in a nation where trust in federal authorities is justifiably low.
Education minister Ezenwo Nyeso had tried to break the strike through an ultimatum, vowing to sack any lecturer who did not return to work by December 4.
But the union defied the demand and the government backed down.
ASUU's position was bolstered by mounting public anger over corruption in Nigeria, where several billion dollars is lost each year due to government graft and negligence, notably in the oil sector.
Nigeria has about 1.2 million students in public and private universities, according to the National Universities Commission. Hundreds of thousands of students have been left in limbo because of the walk-out.