Lesotho PM resigns after opposition forms coalition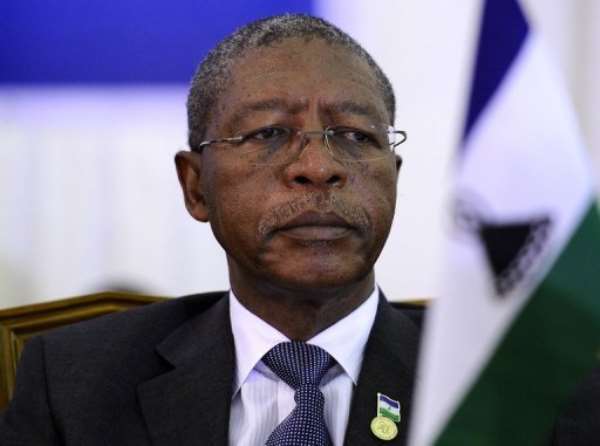 Pakalitha Mosisili has held power in Lesotho since 1998. By Stephane de Sakutin (AFP/File)
MASERU (AFP) - Lesotho Prime Minister Pakalitha Mosisili resigned Wednesday after his party failed to win a majority in parliamentary elections and the opposition united to oust him after 14 years in power.
"The prime minister resigned ... this morning and has submitted his resignation letter to His Majesty King Letsie III," Monyane Moleleki, deputy to Mosisili in the Democratic Congress party said, reading a statement issued by the government secretary's office. The cabinet also resigned.
He said the king in this constitutional monarchy surrounded by South Africa "commanded the prime minister to remain in office until the appointment of the next prime minister."
The constitutional monarchy tucked between mountains will have its first coalition government after opposition parties late Tuesday united to bring down the long-time leader.
Mosisili's party said it was in powersharing talks with other parties and vowed it would concede defeat if it failed to clinch a deal.
"We know its not going to be a walk in the park and we are prepared for any outcome," Moleleki said.
"We want to lead by example and be the first party to accept defeat peacefully."
Mosisili's resignation follows a disappointing show in Saturday polls, where his Democratic Congress (DC) won only 48 seats in the 120-seat parliament.
A Gallup poll last month ranked him among Africa's five most despised leaders, with only 39 percent approving of his job performance, placing him alongside the likes of Zimbabwe's Robert Mugabe.
The leader of the main opposition All Basotho Convention (ABC) party, Tom Thabane, said that at least five parties would form the alliance giving them a majority of 64 parliamentary seats needed to form a government.
"We have a common goal of seeing a Lesotho that is truly democratic and since none of our parties have the numbers we decided to form a coalition," Thabane said.
The vote was the most closely watched in 14 years since Mosisili's election sparked violent protests that left 100 people dead and led to a regional military intervention led by South Africa.
Mosisili, 67, had said during the election campaign he would hand over power if he lost.
Under the opposition coalition deal, the Lesotho Congress for Democracy (LCD) will add its 26 seats to the ABC's 30 while the smaller Basotho National Party, the Popular Fund for Democracy, and the Marematlou Freedom Party will also join up.
Lesotho has a mixed election system where voters choose lawmakers to represent each of 80 constituencies. The other 40 seats are awarded under a proportional vote system.
Mosisili campaigned on Lesotho's relative stability on his watch, which ended a long dictatorship and a rocky period of monarchy.
He came to power as head of the LCD in a 1998 election, but broke away and founded the DC in March this year after a fallout with other party leaders when he wanted to appoint a successor unilaterally.
Personal feuds among the three main party leaders -- all of whom were once members of the LCD -- have largely overshadowed polls in a country where more than half of its two million people live in poverty.
Thabane broke away to form his own party in 2006 after a dispute with Mosisili, while LCD leader Mothejoa Metsing opposed Mosisili's moves earlier this year to appoint a successor which led to the prime minister leaving the party.
Thabane's ABC performed strongly in the cities, reflecting dissatisfaction among urban voters with the prime minister, but Mosisili enjoyed strong support in rural areas, which made up two-thirds of his party's constituencies.