Building contractors raise issues with soaring cement prices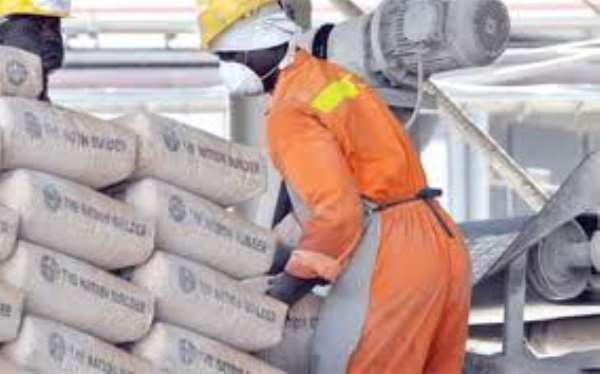 The Association of Building and Civil Engineering Contractors of Ghana (ABCECG) is worried the industry could soon collapse with the arbitrary hikes in prices of clinker cement.
Prices of the commodity have shot to Gh30.00 in parts of the country due to production shortages and alleged price manipulation by cement distributors.
In the midst of challenges in supply, leading cement manufacturer, GHACEM, on Monday increased its ex-factory price for 50kg bag of cement to Gh15.295, citing the cedi depreciation against the dollar among other factors.
The company adjusted the price upwards to Gh13.34 in February 2012.
Chairman of the Technical Committee of the ABCECG, Rockson Dogbegah, told Luv Biz Report the arbitrary increases in prices would throw contractors out of business and curtail employment opportunities.
"Some contracts we have are fixed contracts which you cannot pass on these increases to the client, so it becomes the burden of the contractor and that is where our worry is… it's going to make people lose their jobs; it's going to affect employment opportunities – so it's a major headache for those of us in the construction industry", he wailed.
According to Mr. Dogbegah, the demand for cement has increased due to the rise in infrastructural development projects, hence the need for "a conscious effort to get other cement factories into the system. But where you have only Diamond Cement and GHACEM who are controlling the market, it means that we're at their whims and caprices".
GHACEM controls over 60 percent of Ghana's cement market. Other players include Diamond Cement, Savannah Diamond Cement Limited at Buipe and Greenview International Company, which imports finished cement for bagging.
Mr. Dogbegah believes increased competition in cement production would be in the interest of the economy to meet the increasing demand for the commodity.
"I think it should be a wake-up call for government and stakeholders to see the need of breaking the monopoly if we really want to deal with this issue properly. Otherwise the construction industry is going to be collapsing very soon because there is no way a contractor can remain in business when there is this arbitrary increase in prices", he noted.
Story by Kofi Adu Domfeh/Luv Fm/Ghana