NEGOTIATION OVER REGULARITY OF WATER SUPPLY TO KROBO AREAS ENDS IN A DEADLOCK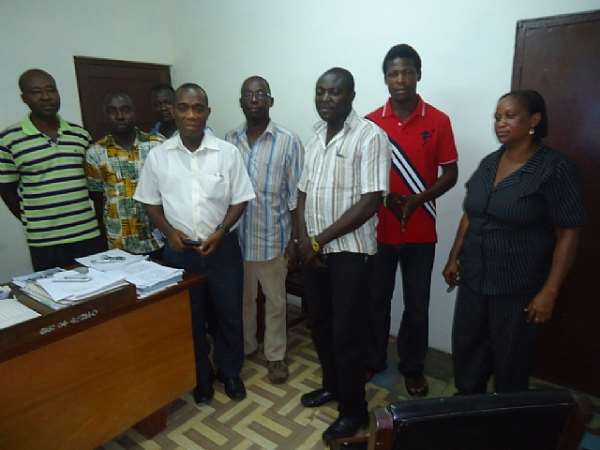 May 29, 2012, Odumase-Krobo: A meeting between the leadership of Kloma Gbi, the Krobo youth group agitating for regular water supply and officials of the Urban Water Company Ltd. (UWCL) yesterday to negotiate the regularity of water supply to the Krobo area ended in a deadlock.
Whiles Kloma Gbi was demanding regular flow and an agreement to that effect; officials of UWCL led by the Eastern Regional Distribution Manager, Mr. Mac Doe said they could not guarantee that because of the limited quantity of water received from the production section at the Kpong Water Works. He said the efficiency and capacity of the obsolete pump that serves the Krobo area keep reducing while the population of the area is steadily growing hence the yawning gap in demand and supply. He said the water that was released to the area over the weekend upon the sector minister's intervention was a special exercise which cannot be sustained".
He added that "The normal rationing plan had to be interrupted to get water flowing to the Krobo areas as it did on Saturday and this deprived others elsewhere of their supply".
The Commissioner of Kloma Gbi, Mr. Philip Padi said "Frankly, we were surprised water could still flow through the taps of the ordinary Krobo by a mere change in the rationing plan as was experience over the weekend. When on Saturday water flowed through taps that last ran between six months and one year, indigenes of the Krobo area were shocked; most people did not even know water was released to them because of how long they were deprived".
Mr. Padi said "We still cannot come to terms with the fact that we host two treatment facilities; one at Kpong and the other at Bukunor in the Lower and Upper Manya Krobo Districts respectively yet treated water is regularly served other towns to our neglect. Even if we cannot be given a preferential treatment by virtue of our proximity to the treatment plant (and as host districts), we should be treated just as people in places like Tema, Afienya, Koforidua, and the mountainous areas".