Liberian warlord Charles Taylor faces sentencing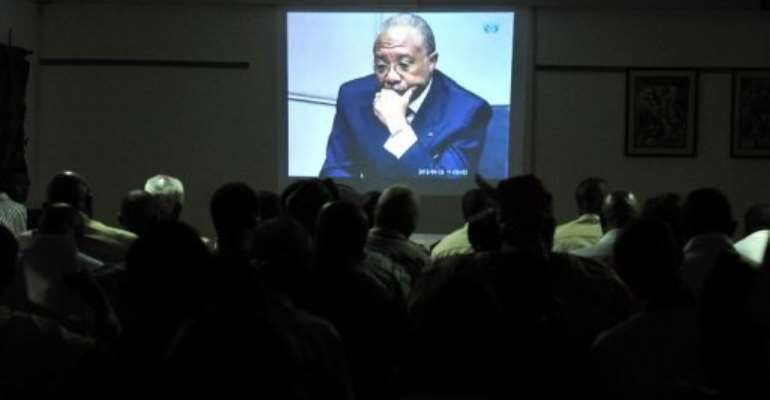 LEIDSCHENDAM, Netherlands (AFP) - Liberia's convicted warlord Charles Taylor faces sentencing for war crimes by a special UN court Wednesday for arming Sierra Leone's rebels who paid him in "blood diamonds".
Special Court for Sierra Leone judge Richard Lussick will hand down the ruling at a hearing slated for 11:00 am (0900 GMT), the first sentence against a former head-of-state in an international court since the Nazi trials at Nuremberg in 1946.
Early this month, the court's chief prosecutor Brenda Hollis argued for 80 years behind bars for Taylor, once one of the most powerful men in west Africa and a driving force behind Sierra Leone's brutal decade-long war in which 120,000 lives were lost.
His defence considers that level of sentence "excessive," arguing that it would condemn Taylor to life behind bars. Throughout the trial Taylor himself maintained his innocence and insisted he was instrumental in eventually ending Sierra Leone's 1991-2001 civil war.
The former Liberian president was convicted on April 26 on all 11 counts of war crimes and crimes against humanity for aiding and abetting Sierra Leone's Revolutionary United Front (RUF) rebels and their alliance partners.
In return the court said Taylor, 64, was paid in diamonds mined by slave labour in areas under the control of rebels who murdered, raped and kept sex-slaves while hacking off limbs and forcing children under 15 to fight.
Should Taylor get jail time, it will be served in a British prison. The court's judges cannot impose a life sentence, only a definite number of years. His lawyers -- as well as prosecutors -- have two weeks to appeal after the sentencing.
Taylor's trial which lasted nearly four years wrapped up in March 2011.
It saw a number of high-profile witnesses testify including supermodel Naomi Campbell, who told of a gift of "dirty diamonds" she received in 1997 while attending a charity ball hosted by then South African president Nelson Mandela.
Handing down the verdict last month, Judge Lussick stressed that although Taylor had substantial influence over the RUF, including its feared leader Foday Sankoh, "it fell short of command and control" of rebel forces.
Sankoh died in 2003 before he could face trial.
Authorities in Nigeria arrested Taylor in March 2006 as he tried to flee from exile after being forced to quit Liberia three years earlier, under international pressure to end that country's own civil war.
He was transferred to The Hague in mid-2006 amid security fears should he go on trial in Sierra Leone's capital Freetown.