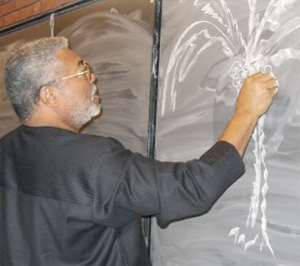 Jerry John Rawlings, like his successor, former president John Agyekum Kufuor who averred in a television interview that he has no any regrets over his eight-year rule of the country, also believes he has acquitted himself creditably in his almost 19-year rule of the country.
Of course, in the case of the former junta head Jerry Rawlings, it is on record that in 1995 at a Church of Pentecostal conference at the International Trade Fair, he did apologize for "the excesses" of his June 4 and 31st December revolutions.
The Founder of the National Democratic Congress (NDC) and former president of Ghana, Jerry John Rawlings has often been referred to by political pundits as an enigma who is both an asset and a liability to his party in its electioneering struggles since the birth of the Fourth Republic.
Some say he is an asset because it was he Rawlings, and he alone who won the elections for the party in the highly acrimonious 2008 presidential run-off. He is an asset they say because he draws the crowds for the party at rallies and makes the front pages, whether for the good or bad reasons.
Ever since his burst onto the political scene of this country in the late 1970s, 'JJ', as he is affectionately called, has had a problem virtually with all his comrades, appointees and closed confidants, including family members, be it in the Armed Forces Revolutionary Council (AFRC), the Provisional National Defence Council (PNDC) or National Democratic Congress (NDC 1) and NDC 2 under President John Atta Mills.
Two weeks ago, whilst addressing the 30th anniversary ceremony of the 31st December Women's Movement, Jerry Rawlings described his protégé President Mills and his administration as 'traitors' and turncoats who can be dangerous than even the 'perceived enemies' in the opposition New Patriotic Party (NPP).
He said [B]"we have always had to fight against one 'enemy' or opposition. If they can behave in a civil way it will be fair to call them opposition but seeing how they rounded up and jailed innocent people and killed others can we be wrong to sometimes describe them as enemies?
"This time, however, we are fighting against two enemies – one the perceived enemy (referring to the NPP) and the other one the traitor (NDC). We cannot fight both at the same time and therefore one has to go".
As stated in part one of this article, this isn't the last time Rawlings will refer to close associates, colleagues and acquaintance as traitors and turncoats, and cited the best man at his wedding to Nana Konadu, Major Kojo Boakye Djan, the man who also led the assault by junior army officers to save Rawlings' life after his botched attempt at overthrowing the incompetent and corrupt military government of General Fredrick Akufo on May 15th 1979.
It was also indicated how Jerry Rawlings has also been in conflict with most of his colleagues on the AFRC whom he often calls traitors.
Among the next badge of colleagues, friends and appointees of Rawlings to have been tagged turncoats or traitors include: Captain Kojo Tsikata, his long time National Security Capo who is also a relative, Chris Bukari Atim, Sgt Daniel Alolga Akata Poree, Joachin Amartei Kwei, General Nunoo Mensah and W/O Joseph Adjei Boadi, all former members of the PNDC.
Others include Zaya Yeebo, Paul Victor Obeng and the late Ato Austin. The rest include Mr. Tsatsu Tsikata, Dr. Obed Asamoah and Alhaji Iddrisu Mahama
Others who put up with the label, 'greedy bastards' prior to Mr. Rawlings lumping the whole NDC, a party he founded as traitors are: Mr. Ato Ahwoi, Kwamena Ahwoi, Totobi Kwakye, Kwame Peprah and Professor Kofi Awoonor.
The current Eastern Regional Minister and former special aide to the Rawlingses, Victor Emmanuel Smith; Fifi Kwetey, a Deputy Finance Minister and a former close confidant of Rawlings; Trade minister, Hannah Tetteh and Deputy Water Resources and Works and Housing Minister, Dr. Hannah Bissiw.
All the aforementioned individuals have one way or the other offered dedicated service to the former President but have now been conveniently tagged as traitors by Mr. Rawlings simply because they have chosen to demonstrate loyalty to then presidential candidate-elect and now president, John Atta Mills.
In the next edition of this article, read all about each and every one of the individuals mention above, their commitment and loyalty to the NDC and the leadership role of former president Rawlings, some time at the peril of their lives.
Stay tuned