Rawlings Betrays his Supporters?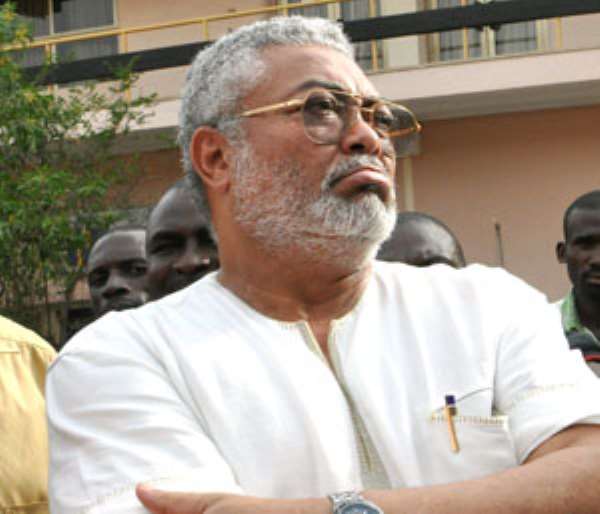 In 1980s I was invited to join the Democratic Youth League of Ghana (DYLG) otherwise known as 'Rawlings' young pioneers'. The then DYLG coordinator in Bimbilla, now lawyer, Mohammed Attah, convinced us that DYLG was a platform for preparing ourselves as future leaders of this country.
It imbued in us the sense of nationalism, patriotism, sacrifice, honesty and volunteerism. In deed through communal labour, we were able to build schools, plant trees and embarked on periodical cleaning execises. We were trained in the art of public speaking, acting, debating, poetry recitals and leadership skills.
Some youth amongst us were also given the opportunity to travel to Cuba and the then Soviet Union to study and return to serve the nation. Our contribution to national development was immeasurable, and that we viewed as national service. If you go to Bimbilla today, the mark we left behind is still very visible.
The DYLG was an umbrella body of the National Youth Organising Commission (NYOC) which later became the National Youth Council (NYC) and now National Youth Authority (NYA). At the time, the focus was on developing the human resource base of the youth as that would largely reduce unemployment and a granteed quality life.
Today some of the beneficiaries of that programme are ministers, lawyers, engineers, accountants, Doctors (both medical and academic) and lecturers.
That is a legacy of former president Rawlings. He inspired us, gave us hope and an assured future. Rawlings' leadership taught us to be honest, accountable, disciplined, truthful, patriotic and fight for justice.
At DYLG meetings we sang patriotic songs such as "arise Ghana youth for your country, your nation demands your devotion...", this rallying song energised and inspired us to be selfless in the pursuit of the developement of Ghana.
It was one of a few of such programmes on the African continent and as the head of state at the time credit must go to former president Jerry John Rawlings.
Now I have taken you the reader through a laborious reading just to let you understand how some people view former president Rawlings and what they see him to stand for.
When he unilaterally endorsed then Vice President Mills as his successor, known as the 'Swedru declaration', it was an endorsement of the above qualities that the DYLG had imbued in us. In deed many of my DYLG colleagues were tempted to say that God had ordained Mills because Rawlings had declared his support for him.
Frankly, President Mills has since lived and walked the sense of nationalism, selflessness and patriotism that the DYLG taught us. As a president, Mills has proven beyond doubts that the development of Ghana is his priority. If we go behind the media propaganda, it is mind boggling and unbelievable the level of development that his government is bringing to Ghanaians in just three and half years.
I have people in other parties tell me that the development Mills is bringing to Ghana is like 'tsunami' in the positive sense. Every sector is rolling out projects as if manna has fallen from heaven. Water supply has improved drastically, electricit much better than before, though more needs to be done.
The Mills led NDC government has its shortcomings. Largely, these shortcomings are internal wranglings witin the party and the attitude of some officials in government. These worrying challenegs are real and nobody should attempt deying them.
In fact such internecine strife and attitudinal challenges on the part of some government officials is not making the NDC very attractive to even some of their own party members. In my rounds I have heard countless narratives of people feeling alienated and neglected. I won't challenge this because I can write a whole thesis on some of the issues people tell me.
To the extend that nothing is being done to resolve these issues, and to the extend that there seems to be complacency, albeit, near arrogance, the NDC will have to work their socks off to appease those who feel left behind. Party politics is vastly different from the provision of development for the people as some government and NDC party officials want us believe.
In view of the above, some supporters and sympathisers feel betrayed by the former President Rawlings for chosing to detroys the very accomplished legacies that he has worked hard to achieve. If he is against president Mills because of internal politics, nobody will challenge him. But in terms of the provision of development for the people of Ghana, some supporters will completely disagree with Mr (Dr) Rawlings. If Mills, without peace in his party, is able to achieve the level of massive development we have seen under his leadership, you can imagine what would have happened if he had peace and the support of all his party members.
Go behind the media propaganda and you will hear commendations from the clergy, civil society, oppositon political parties members, the rural communities and even the international community about how far and fast Mills is developing the country.
I only hope that former president Rawlings will reflect soberly and realise that he is betraying millions of his admirers who are prepared to stand by him in whatever circumstances but will not agree with him regarding the performance of the Mills-Mahama led government. I know Mr Rawling has intelligence information on Ghana more than many people, and if the analysis of the intelligence information is not giving him the conclusion that some of his ardent supporters are feeling betrayed and frustrated, then he has an unreliable inetelligence.
His supporters have vowed not to follow him down the drain. They are resolute in their support for him but will not abandon the NDC. Mr Rawlings' entrenched stance is sending wrong signals to people; that his actions now go beyond the fight for justice and fairness and this they consider as a deliberate move to destroy the NDC and by extension to send this country back many years into time once again.