PM calls Kenya blast terrorism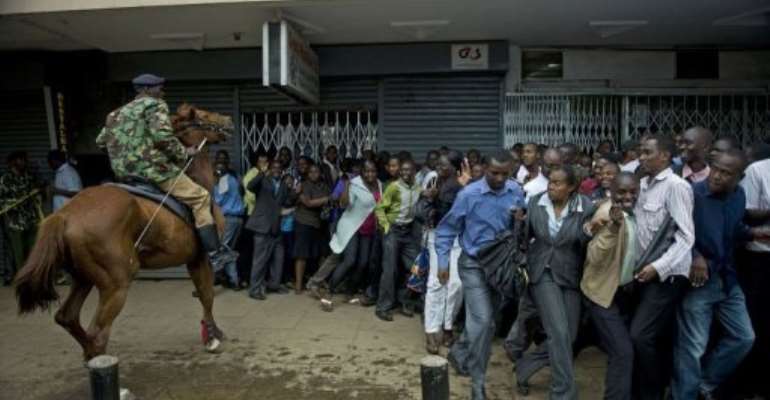 NAIROBI (AFP) - Dozens of people were wounded Monday when what police think was a home-made bomb ripped through shops in central Nairobi, in what Prime Minister Raila Odinga branded a "terrorist" attack.
The blast ripped the tin roof off a complex of small stores on Nairobi's Moi Avenue, smashing windows across the street, wounding at least 33 people, five of whom were in a critical condition, said police.
"This is terrorism...," said Odinga, as he visted the charred and wrecked small shopping complex in Nairobi's commercial heart. "This is a heinous act.
"We are under threat but we will not be cowed," he added.
Police chief Mathew Iteere had at first said said the blast had probably been caused by an electrical fault.
But police said they had revised their view after interviewing a shopkeeper wounded in the blast.
He had spoken of a man who had come to leave a bag in the shop and had come back in later in the day shortly before the blast, only to rush back outside, ostensibly to take a call on his mobile, Iteere said.
Iteere said they now believed it had been an improvised explosive device, in comments to an evening television news programme.
Police had a very good description of the man -- and of a second individual who had accompanied him, he added.
"Initial investigations show that 33 people were injured and are now admitted to Kenyatta National Hospital and the Aga Khan," he told journalists.
"Five are reported to be in a serious condition."
"I can't explain what I saw, it was just terrible," said one witness, George Mwangi.
"I saw a woman who was burning and people were trying to get her to hospital, she was bleeding profusely from the head and her lower part of the body."
George Maina, one of those injured, described what had happened.
"I was just passing by and heard a loud explosion...," he said as he was treated by first aid workers on the street.
"As I ran towards the other side I was hit by broken glass."
The pavement nearby was spattered with blood as people were loaded into an ambulance.
"I saw three women being pulled out in a bad shape -- two of them were badly burnt," said Jacob Mulwa, who runs a nearby shop.
A large plume of black smoke rose high into the air as ambulances rushed the wounded to hospital, but fire fighting trucks with sirens blaring quickly extinguished the blaze.
Minutes after the early afternoon blast the pro-Shebab Twitter site Al-Kataib reported a "huge explosion in Nairobi" although it did not actually claim any responsibility.
Odinga said: "The lives and property of Kenyans are precious and must be protected. We condemn the terrorists and tell them that their days are numbered.
"I addressed parliament and warned of such acts... we chased them from here now they are trying to come back," said Odinga.
"We'll remain united. Our security forces need to be strengthened," he added.
Kenya has suffered a series of attacks in the past several months, which the police have blamed on Somalia's Al-Qaeda-linked Shebab insurgents or its supporters.
Two separate grenade attacks on Saturday wounded at least eight people in northeastern Kenya, the restive region bordering war-torn Somalia.
And earlier this month attackers launched a deadly grenade assault on a restaurant in the port city of Mombasa.
Last month the hardline Shebab warned Kenya of revenge attacks for having sent tanks and troops into Somalia in October.
A Twitter message from the Kenyan-based Muslim Youth Centre, a group linked to the Shebab according to United Nations reports, read: "Kenya under attack? Of course the kuffar (unbelievers) has attacked Somalia!"