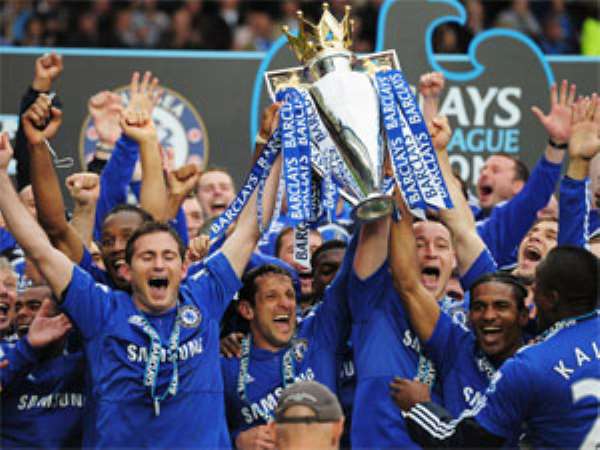 Chelsea players
Rejoice with blue in your colours, my compatriots. Just show me your blue colour for guaranteed victory on December 2012 in the motherland's presidential and parliamentary elections. It is simple logic.
The year 2012 is a year of triumph for blue colours in the land of the monarch who surveyed the motherland's early destiny and held on until Osagyefo won the battle of independence. This year of our Lord 2012 has, to date, been a year of blue colour victory in her majesty's land.
In all battles, blues have won over reds. In one city of blue and red, blue won over red. And when an Angle land blue travelled all the way to Germania to meet a red, the visiting blue overcame the home red against all odds.
My proposition is that, if your colours include blue and red, you are still okay. Red without blue is, however, a probable and possibly a sure loser.
Within the blue winner story is the tragedy of the penalty kick. It seems playing a penalty to win is also losing a game by missing a penalty kick. I have often wondered how many of my compatriots have been paying attention to penalty kicks since Asamoa Gyan's over the bar penalty kick in the match against Zambia.
It was quickly followed by a Drogba miss against the same Zambia which sent the trophy to Lusaka. And then came the turn of Messi who messed up a Barcelona two-peat UEFA champions league final by also shooting a penalty over the bar. The directions of the penalty shots taken by Gyan, Drogba and Messi looked spectacularly similar; all over the bar.
Come a Chelsea-Bayern Munich final match, Arjen Robben, the iron man, also throws a penalty away. And Chelsea repeated what exactly happened to Zambia, winning a championship by escaping from two successive penalties in the penultimate semi-final and the ultimate final matches. That one is known as luck in football. It has nothing to do with African electronics as was claimed in the case of Zambia.
All I am saying, effectively, is that Osono can rejoice with blue in its true colours. Fortunately, its blue is more in line with Chelsea blue than in Manchester City blue. I need to point out that because Manchester City blue is also Wassaman blue.
Manchester City blue won but Wassaman blue lost its final match in trying to escape relegation to Berekum Arsenal. Berekum Arsenal was in red but not so red because the red combined with white in red and white colours.
On Barca grounds, Chelsea won in white, having won at Stamford Bridge in their blue. Thus, they won in blue first and white second. Blue and white wins plus a second blue win in Munich gave Chelsea the first UEFA championship cup in their entire history.
Osono combination of blue and white is, thus, still a winner. The red only admonishes them to ensure that all die be die is regularly invoked during the election process.
Having sold its colours at GH¢50 to Adwoa Kwaadu, prowling congress could already be eyeing blue. They are clever thieves. They stole the CPP's red, white and green. Now that they know blue is a winner, they will do everything to grab it. Remember, congress likes to reap where someone has sown. Their greed is such they couldn't save GH¢50 of the Woyome money to contest the symbol annexation.
Anyway, if the Osono blue has not been registered, they better do that now. Osono better register their blue because should Naa Kwaadu take her umbrella back, congress will quickly rush for the Osono blue. Just imagine a folded umbrella with the rains pouring all over.
When a group known as congress has a scribe who is a professional ballot box stealer or incites to incinerate structure housing election materials, stealing someone's emblem or colours is no problem. You can hear the man bragging all over the place about the irrelevance of a founder in election contests; after claiming he had tamed the barking dog.
Perhaps, he is too young to know that since the CPP was orphaned with the coup against its founder, it has always struggled. Its latest struggles have been with trying to shake off unsuccessfully the shackles the congress founder tied it up with.
Everyone has seen the congress charlatans who have been invoking Kwame's name in vain without shame. I heard this morning someone is also claiming their name, that the congress acronym has been registered by someone. These are interesting times for the greedy bastards.
The pain is the motherland who has gained nothing but pain for close to four years. God give the motherland a blue colour victory and spare her four more years of more pain.
  By Kwasi Ansu-Kyeremeh