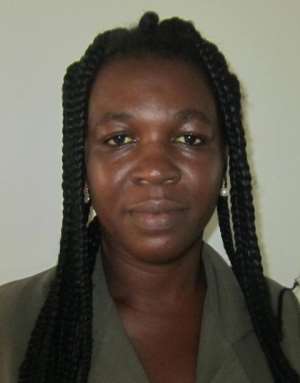 Are women better needed in Parliament because they are problem solvers, and can help end corruption? GNA Feature by Josephine Naaeke,
Accra, May 28, GNA - There is this perception that politics is all about hard issues, which should concern men more than women.
That men are associated with the hard politics and women soft politics of the home.
But should women only be in the kitchen? Some men are also better caterers and better home keepers than females. If you have ever stopped at any fast food joint it will dawn on you that it has fast become a male dominated area than that of females.
Is it not a kitchen?
However, it is the opinion of some men too that women should not only remain in the kitchen but should join the high echelon of political office holders.
Currently there are 19 women out of the 230 members of Parliament in Ghana and what is going to happen with regards to women representation come December 2012 when Ghanaians go to the polls to elect a President and members of Parliament.
Figures in the 2010 national census show women are more than men, with 12,421,770 women as against 11,801,661 men, in a total population of 24,223,431.
Views from some traders at the Circle Pedestrial Mall, and a woman Member of Parliament show that women can play a better role in ending corruption and addressing some major problems in society when voted into power.
Mr Nyantey Isaac Buabeng, a businessman from Odorkor, who spoke to the Ghana News Agency Parliamentary Correspondent, outlined the capability of women and to him if women are given the chance to rule the country not only as Ministers or Members of Parliament but as President, it will limit corruption.
"For me, if my wife wants to be politician I will give her the chance; men are cheats, they think and care more about their girl friends and themselves than addressing the core problems of society.
"If I should go to vote and see a woman contesting with a man I will vote for the woman to go to Parliament."
Mr Buabeng whose constituency is Okaikoi noted that it was society's mind set that made people want to place women in the background.
It is his view too, however, that women themselves must struggle to get to the top of the political ladder and should not yield to intimidation.
Bright Appiah, a trader, said men misuse money but women are mothers and caring. He added: " Ursula Owusu is in my constituency and I will vote for her."
According to Osei Kuffuor David, another trader, men are greedy and selfish. The only male traders who had a different opinion were Mr Charles Oppong Asare and Doglas Inkoom who thought that men should be in politics and women should take care of the home.
In the view of Mr Inkoom, however, Ghanaians do not discriminate against women as women can rise to any high political position.
But his problem is that when women are empowered to that level "they rather abuse the men, especially their husbands." He also indicated that a woman President for Ghana would be a high table for women, as they might not be able to handle the post.
Mr Inkoom feels that women who get into politics should be submissive and be submissive for their husbands to be able to remain heads of the house.
Mr Paul Collins Appiah Ofori, New Patriotic Party (NPP) member for Asikuma/Odoben/Brakwa, and an anti- corruption activist admitted he was not seeking re-election into Parliament because he had failed to fight corruption the reason for which he represented his people.
If men are in favour of women going into politics what do the women also think? Madam Joycelyn Nana Asante, resident of Odorkor is of the opinion that more women should be voted into Parliament and should be given political post.
Her reason being that women are able to talk about issues affecting other women which the men do not know much about.
In her view, some men are irresponsible; they care less about their children and therefore many women are left alone to cater for the problems of the children and other issues affecting the home.
Mary Darkoa, of Ablekuma South Constituency and Diana Amissah of Russia near Dansoman in Accra, favoured women getting into politics saying they are able to talk for women when they are in Parliament.
Now, what is the view of a woman in active politics in Parliament. Mrs Catherine Afeku, NPP Member for Evalue/Gwira said women can match their male counterparts, saying the few females in Parliament are not allowing the men to relegate women's issues to the background.
She said it was not easy from the beginning when a woman tried to enter politics but with determination, hardwork and perseverance, one will finally get there.
Mrs Afeku noted that after one was accepted by the people to represent them in Parliament the challenges became more, adding that "what the people need is lobbying for projects".
She said it was necessary for women to push for the 40 per cent quota for women in Parliament, adding the quota system is in the right direction and measures have to be put in place to sustain it.
Now that she is in Parliament she is better placed to assist her constituency with ideas on how to develop the area and she has also established some projects that create jobs and develop her constituency in the area of education and health, Mrs Afeku indicated..
Being her first time in Parliament she feels that women are more transparent. About intimidation by men she said, " As for me the men are even intimidated by me." She called on the media and civil society groups to mount platforms to talk about the need for women to be in politics and to rope in more women.This can be done by sensitizing the men that women are not in competition with them.
Article 94 of the 1992 constitution outlines the criteria for whoever wants to be an MP and not necessarily the level of education, though that on is also important. She observed that financial difficulties serve as barriers to a lot of women.
In the view of many, most people favour the idea of women going to Parliament but some of the women fear sticking their necks out to join in the male dominated area.
Though I do support that women should force their way through to be in Parliament, it is still my view that women who want to join politics must adequately prepare to meet the insults, harassment and all the challenges that others inside there face everyday.
Imagine being on the highway in Accra where all vehicles are moving and all of a sudden a vehicle in front comes to a stop and causes a traffic hold-up, with the driver being a woman,. What do other people in other vehicles say upon coming to know that it is a woman? "Oh no wonder it is a woman driver, that is why".
Women like Mrs Joyce Adeline Bamford Addo, Speaker of Parliament, Mrs Georgina Theodora Wood, Chief Justice of the Supreme Court are occupying high positions in decision making in the country, and other women could take a cue from them.
To all prospective women politicians the road leading to Parliament is very narrow and you must struggle and get there. Also, when they finally succeed to get into parliament to represent the people who put them there, women must do well to be good drivers.
GNA