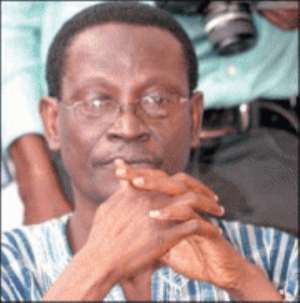 The National Chairman of the National Democratic Congress, Dr Kwabena Adjei, has called on party members to let party unity be their goal.
As a political party, he said, what held them together was unity, therefore without it, it would be difficult for them to tackle their opponents.
Dr Kwabena Adjei also advised party members to avoid campaigning for leadership positions within the party and rather focus on winning more members for the party.
The party chairman made the call on Saturday at the National Delegates Cadres Conference of the 31st December Revolution in Accra.
The conference, which was dubbed "United Cadre's Front For Agenda 2012 and Beyond", was organised to deliberate on matters of national importance and to chart the future course for cadres.
The National Chairman, therefore, appealed to the youth to remain calm in the run-up to the elections and desist from negative utterances that had the tendency to ruin the party.
Speaking at the delegates' conference, the Chairman of the forum, Comrade Roger Beckley, said as the theme portrayed, the most important requirement was for the party members to unite.
He also said the party had spent almost three-and-a-half years trying to let peace and unity reign in the party but these efforts had not been successful.
Comrade Beckley added that the party could not continue investing its energies in unproductive ventures and said it was the duty of every member of the party to rise above all pettiness and execute the task ahead of the party.
Comrade Beckley, therefore, called on cadres to unite and work hard so that the party would win the 2012 elections and continue the Better Ghana Agenda.
A former member of the erstwhile National Commission for Democracy, Dr Ebenezer Ato Ayirebi-Acquah, said it was necessary for the members of the party to come together and deliberate on the challenges confronting them.
He said "we cannot afford to destroy our NDC and rebuild it later just because we have problems and conflicts today".
He added that there was the need to call a spade a spade and avoid resolving their challenges by condemning each other in public.