Sudan bombs South Sudan on eve of peace talks: South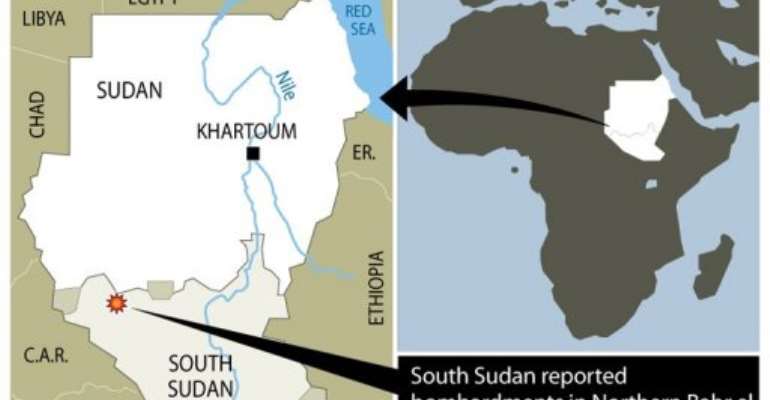 JUBA (AFP) - South Sudan said Monday Sudanese war planes and artillery had bombarded its territory on the eve of peace talks, as Southern officials set set off to attend African Union-led negotiations in Ethiopia.
"They are bombing South Sudan, attacking South Sudan, and continuing to send armed groups to destablise South Sudan... these are not the signs of peace," South Sudan's top negotiator Pagan Amum told reporters.
However, Amum said he was still "optimistic" that the talks due to start on Tuesday in Addis Ababa would go ahead and produce results.
The former civil war foes fought heavily in contested border regions last month, the worst fighting since the South won independence last July and sparking international concerns of a return to all-out war.
International pressure has pushed both sides to return to the long-running talks stalled by the fighting in April, when Southern troops seized an oil field from Khartoum's troops for ten days as Sudan launched repeated air strikes.
Southern army spokesman Philip Aguer said that Khartoum's army, the Sudan Armed Forces (SAF), had launched bombing raids by warplanes as well as firing shells across their contested border.
"For the last three days SAF has been bombing Northern Bahr el Ghazal...this has also involved long range artillery," Aguer told AFP. "We remain on high alert for a possible ground attack."
Sudan has repeatedly denied it has launched air strikes on the South, and it was not possible to independently verify the reports of the attacks.
A United Nations Security Council earlier this month ordered both sides cease fighting and return to talks or face possible sanctions.
"We are returning to the talks ready to negotiate with the Government of Sudan to discuss all the outstanding issues," Amum added.
"We are actually more optimistic than any time before, as today we have the UN Security Council resolution giving a timeframe to achieve resolution within three months," Amum said. "It is good there is international backing."