African economy risks infection from Ebola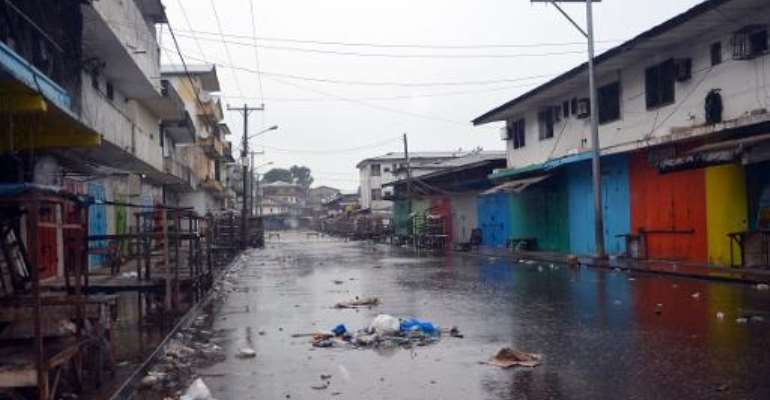 Paris (AFP) - Ebola may only be present in a few African nations, but fears over the crippling outbreak are infecting economies across the continent and may put its envy-inducing growth prospects at risk, experts said Monday.
"It is as if Ebola was transmissible to countries rather than individuals," Carlos Lopes, executive secretary of the UN Economic Commission for Africa -- which promotes economic and social development of the continent's nations -- told AFP on the sidelines of a forum organised by the OECD in Paris.
The outbreak has battered some of the continent's most booming economies and many at the International Economic Forum on Africa fear that at a time when Africa is basking in the glow of galloping growth, the economic infection could spread.
The epidemic is centred in mainly three west African nations -- Sierra Leone, Liberia and Guinea.
Sierra Leone was leading the charge with 13.8 percent growth expected in 2014 and Liberia was predicting 6.8 percent, according to figures published by the Organisation for Economic Co-operation and Development.
Both nations were bouncing back from bloody conflicts which ended roughly a decade ago -- and Guinea was also recovering from a series of political crises -- when they were hit by Ebola, which has killed more than 3,400 people in west Africa since the start of the year.
"Today we would be a bit more confident if Ebola wasn't on our continent," said African Union chief Nkosazana Dlamini-Zuma.
The three most affected countries "are countries that were really turning the corner from having had conflicts and so on and they were doing well."
The International Monetary Fund and World Bank have both warned that growth estimates in these fragile economies would plummet.
Liberian President Ellen Johnson Sirleaf last week said the country's already small $600 million (480 million euros) budget was set to fall by $132 million.
As a result of the epidemic, travel bans have been imposed from the West and within the continent, which along with other measures such as border restrictions are having a "snowball" effect on neighbouring economies, said Ayodele Odusola, strategy chief for the United Nations Development Programme in Africa.
"It has crippled the activity in border towns. Some neighbouring countries like Ivory Coast and Senegal depend a lot on some of the primary commodities that are coming from these countries," he told AFP.
-'Fear factor'-
Dlamini-Zuma said much of the setback faced by countries on the continent was as a result of a narrative that saw them all lumped together as one, as opposed to very different nations.
While the Ebola virus has surfaced in only a few African countries, "the world is only looking at one story line."
"It does not mean the rest of Africa is paralysed... there are still a lot of positive things happening," she said.
The World Bank warned in September that the "fear factor" of the disease could have potentially catastrophic results on economic growth.
Lopes said the Ebola outbreak would shatter some of the progress made in reversing negative narratives on Africa.
He added he was "very worried" about international fears prompting investments to be postponed as well as "how Africa is going to be able to raise capital in light of perceptions of volatility."
The three epidemic-hit countries are "less than one percent of the (African) economy, so the fundamentals of the 99 percent have not changed both in terms of returns on investment, prospects of growth and so on, and should not be affected directly by Ebola, but they will be.
"Perception is something that doesn't necessarily reflect reality, it becomes reality because that's what people believe."
Sudanese billionaire Mo Ibrahim, who runs a foundation to encourage better governance in Africa, also slammed the negative perception that "Africa is all one place all full of Ebola."
"People stop flying to Kenya and South Africa when Paris and London and Lisbon are closer to the infected area than these countries," he told AFP.