Adoboli's Nationality Not Known - London Police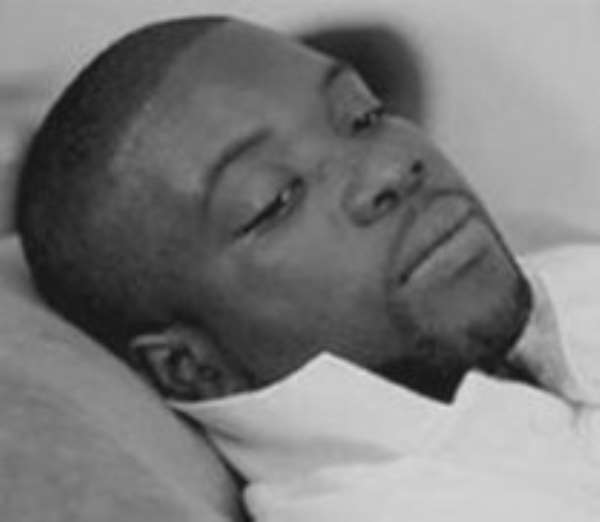 Kweku Adoboli
Kweku Adoboli City of London Police investigating the circumstances regarding Kweku Adoboli, a 31-year old trader at UBS in an alleged rogue trading that has cost the Swiss banking giant an estimated $2bn (£1.3bn) said his nationality in not known at the moment.
A spokeswoman for the City of London Police who spoke to the Graphic in a telephone interview in London observed that 'we
have just started the investigations and we are unable to release any information as at now'.
She said what was crucial in such investigations was the issue at stake.
Adoboli was arrested by City of London police in connection with the missing of what is described by expects as the biggest bank lost in recent times.
With the name sounding so Ghanaian concerns have been raised especially within the Ghanaian community of Kweku Adobili's nationality. The name has sparked discussion within the community especially in the media. While many argue that he is a Ghanaian others have the view that he is only of a Ghanaian origin.
But the free online encyclopedia on people, places and groups Wikipedia suggested this morning that Kweku Adoboli is a Ghanaian.
This morning his social media accounts such as linkedin and facebook accounts providing self-profile were terminated perhaps upon instructions from the police, that they may not thwart the investigations.
Further investigations by this reporter indicated he is very humble and quiet but lives an affluent lifestyle.
He moved out of the plush £1,000 a week pad in trendy Shoreditch, east of London, about two months ag, investigations revealed.
His former landlord Mr Philip Octave said "He was a very nice guy, very polite. He would speak to anyone. I don't have a bad word to say about him, he was indeed a good man.
Officials of the Ghana High Commission in London told this reporter that they were working hard to establish the real identity of the suspect whose alledged crime has hit an international dimension.
Mr. Adoboli is alleged to have lost £1.3 billion before his bosses at the Swiss-based investment bank UBS discovered the rogue trades.
The scandal which is reported to have wiped £4 billion off the value of shares in UBS, affecting thousands of pensioners whose funds had invested in the company.
The losses stemmed from unauthorized derivatives-trading bets, according to a person familiar with the matter. The bank said no client positions were affected.