New Survey Ranks Ghana High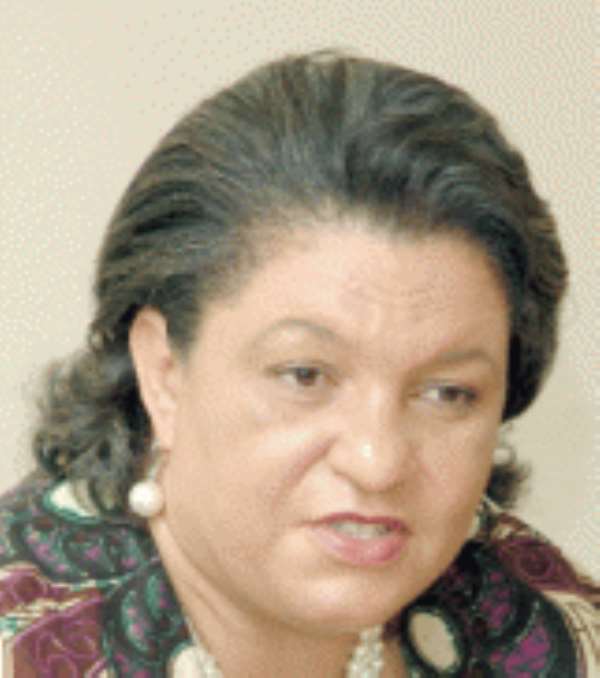 Ms Hanna Tetteh - Trade Minister
Ms Hanna Tetteh - Trade Minister Ghana has been ranked as the fourth country with the best Foreign Direct Investment (FDI) strategy in Africa, according to the Foreign Direct Investment (FDI) Intelligence 2011 survey conducted by the Oxford Business Group, a global research think tank.
The survey, dubbed "African countries of the Future," also placed Ghana as the 10th country with the best economic potential; fourth best in business friedliness; and 10th in terms of best cost-effectiveness.
Consequently, President John Evans Attah Mills has pledged the commitment of the government to ensure that the necessary frameworks that would help improve the business environment in the country are pursued to their logical conclusion.
In a speech read on his behalf at the 'Invest In Ghana-2011' seminar which is being held under the auspices of the Ghana Investment Promotion Centre (GIPC) to herald the Ghana Club 100 awards, the President said: "The government recognises the importance of attracting and retaining FDI and its contribution to our economic development efforts," adding that the government also acknowledged the fact that measures would have to be adopted to enable the country to be competitive as an investment destination.
Against this background, President Mills said the government had supported measures aimed at improving the legal and regulatory framework for doing business, strengthening the financial sector and access to land, streamlining the business registration and licensing systems, reforming customs administration and taxation and developing infrastructure and institutional reforms.
The Chief Executive Officer of the GIPC, Mr George Aboagye, in his opening address, said the theme for the seminar, "The role of the domestic investor," fell in line with the government's objective of ensuring that the private sector spearheaded economic growth and development and the government's role of creating an enabling environment for them.
"The GIPC, whose mandate is to encourage, promote, facilitate and co-ordinate investments in the Ghanaian economy, sees the role of the private sector as very crucial at this stage of national development," he said.
Consequently, he said "the centre has sought to engage the private sector, through outreach programmes to sensitise them to its functions and the assistance that the GIPC can offer local investors".
He said: "Our operational performance reveals a growing trend in investments and joint ventures."
In 2010, 386 projects were recorded of which 136 were joint ventures. This compares with 257 projects out of which 90 were joint ventures as recorded in 2009. This represents 51 per cent increase in the number of joint ventures from 2009 to 2010.