Disband Witches Camps - Human Rights Advocates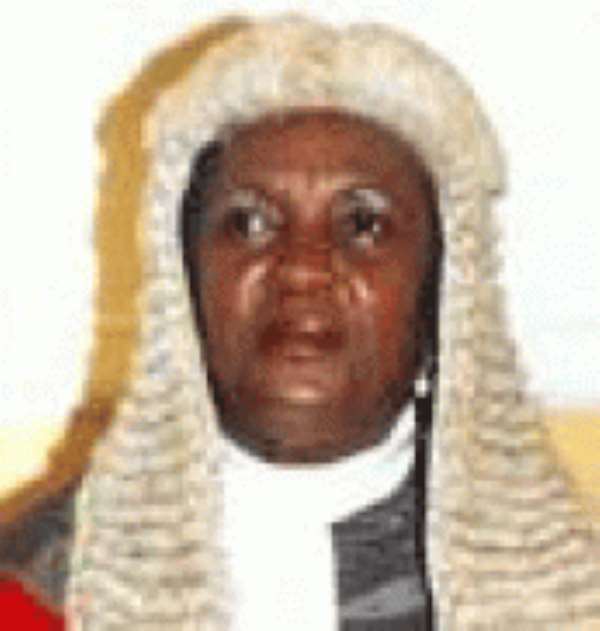 Chief Justice Georgina Theodora Wood
Human rights advocates in Ghana have called for the disbandment of witches camps in the country to conform to the world order of protecting the rights and dignity of citizens.
The country has six witches' camps in the Northern Region, where innocent women are detained and subjected to dehumanising treatment on account of being falsely accused of witchcraft.
Lately, so much attention has been drawn to the human rights abuse inherent in the practice and the need therefore, for it to be abolished. It is against this backdrop that a day's conference on the abolition of witches' camps was held in Accra. It brought together human rights groups and other stakeholders to brainstorm on the way forward in pushing for the disbandment.
It was on the theme "Towards Banning "Witches" Camps".
Delivering the keynote address, a Justice of the Supreme Court, Justice Rose Owusu, who represented the Chief Justice, Mrs Georgina Theodora Wood, deplored the existence of witches camps in the country pointing out that the treatment meted out to inmates of the camps amounted to trampling on their fundamental human rights.
Quoting statistics which indicates that more than 1,000 women and 700 children are detained in the various witches camps, Justice Owusu in condemning the practice said it was unfortunate that many Ghanaians ignorantly believed in the existence of witchcraft.
She wondered why camps were created only for women without counterpart "wizard camps" for men and noted that because women were vulnerable they suffered all manner of treatment in the hands of their accusers.
Justice Owusu quoted Article 17(1) of the 1992 Constitution which among other provisions, states that all persons shall be treated equally before the law.
"Abuse of women is a gross violation and infringement of the Constitution. It is illegal for anyone to hide behind false accusations and abuse a woman," Justice Owusu underlined.
Whiles calling on Parliament to enact the appropriate laws for the disbandment of the camps, she asked for a collaborative effort to wage a serious fight against the menace.
The Deputy Minister for Women and Children's Affairs, Hajia Hawawu Boya Gariba,contended that since Ghana was a signatory to a number of protocols such as the Beijing Platform for Action and violence against women, there was no justification for the existence of such camps in the country.
She expressed concern that despite public outcry against witches camps, there seemed to be a growing number of such "witches" in the camps and acknowledged that education was one of the surest ways of changing people's attitude towards the practice.
Hajia Gariba urged participants to the conference to endeavour to come out with laudable interventions in the quest to abolish the 'witches' camps'.
Madam Bikamila Bagberi who spent 13 years in a witches camp at Nabule in the Gushegu District of the Northern Region, gave a chilling testimony of how she was tortured when she was falsely accused of being responsible for the death of his brother inlaw.