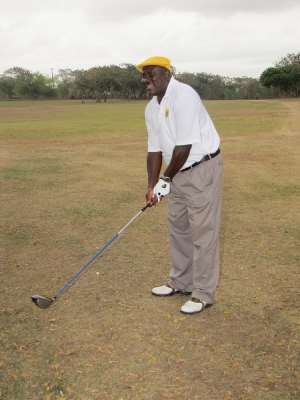 Golf and business have over the years become as inseparable as many an executive's long-iron shot and the nearest bunker. Corporate executives have come to the realization that, no other sport helps in developing lasting professional relationships like golf does.
In this edition of the 'Celebrity Golfers' page, we place the highlight on one of Corporate Ghana's successful top executives, Mr. Michael Ikpoki. He has proven track records in dynamism of sound administration and he is original in thought. He served as sales and distribution Executive for MTN Nigeria. He joined MTN Nigeria as Advisor in 2001 and was promoted to General Manager: Regulatory Affairs in 2004.
Since March 2011, he has been the Chief Executive Officer of MTN Ghana at MTN Group Ltd. He has since supervised lots of great transformation and telecom innovations to place MTN in a league of their own. As a golf enthusiast, his association and contributions to golf is phenomenal.
Find below an insightful, thought provoking interview that we reproduce here for your reading pleasure.
TheGolfer (TG). With your organization's consistent association with golf on several levels, what influence will you say have such commitments brought to the golfing fraternity?
Mike Ikpoki (MI) I believe we have through our sponsorships deepened interest in the game. We believe that these sponsorships have provided the right platforms to strengthen friendships and business relationships within the golfing community. We have reiterated that MTN is always trying to connect with the passions of the different segments of our subscribers. We believe we are demonstrating this well within the golfing community.
(TG) How did you get into golf?
(MI) I was always interested in the game of golf as a child because my father was a very keen golfer. However, I only started playing some seven years ago.
(TG) Golf presents to the business executive golf traits that underlines strategic thinking and coolness under fire, what specific impact has golf brought to you since you became a golfer as an Executive.?
(MI) I have drawn simple lessons from golf which I have applied in my executive roles. Some of which are taking all the facts and information into account before taking a decision, committing to the decision and wholly accepting responsibility for the outcomes. Like you said, keeping a cool head under pressure. Perhaps, most striking is learning to compete fiercely in the field of play but doing so in a disciplined and fair-minded manner. All such principles apply when working in a competitive Industry like telecoms.
(TG) Your position as head of MTN in Ghana and an ardent golfer allows you ample opportunity to meet lots of people who have diverse interest in golf, in what ways have these encounters influenced the way you look at the game.
(MI) I have learnt a lot from some of the great people I have met on the golf courses in Ghana. Some of them have been very generous in sharing tips which have helped to improve my game. I really appreciate the warmth and friendship I have received from fellow golfers.
(TG) Your comment that, "to respect hole 10 at the Royal Golf Club, is the beginning of wisdom", gives credence to how you view the course, what other course(s) in Ghana do have difficulty playing?
(MI) I won't use the word "difficulty". Each course has its character and attendant challenges. The thrill is always to understand this and plan to conquer such challenges. I play much more at Celebrity Golf course and I relish the challenge of the new improvements being made on the course. I enjoy the challenge of the less forgiving Achimota golf course and I look forward to returning and conquering hole 4 in Kumasi. It's this challenge and thrill that makes golf such an interesting game.
(TG) How are you able to get into the right frame of mind when you encounter difficult moments on a golf course?
(MI) Like in life, I try to focus on dealing with the challenge frontally and avoid distractions like thinking of how I got there or picturing a successful outcome.
(TG) Ghana's position in golf is one that is confronted with issues such as substandard golf courses, inadequate training opportunities and marginal corporate involvement, how best can the country consolidate the little opportunities available to register a good presence at the Olympic Games in 2016?
(MI) The reality is that with the growth we are seeing in the economy will come increased business and tourist traffic which emphasizes the need for internationally standard golf courses in Ghana. I must say that there have been a lot of improvements in the last one year or so. Most courses in Ghana now have deliberate course improvement projects in place. We now have some corporates now committing to support course development projects. I think we will start to reap the fruits of these interventions. In the meantime, corporate sponsorships will continue to assist in creating more awareness and drumming up more support for golf development
(TG) With your highly demanding job as a top executive, how are you able to make time to play the game and how frequent?
(MI) I can only play on weekends when am not travelling.
(TG) Some tell lies, others maneuver just to have some good moments on the golf course, what is the weirdest thing that you did for golf?
(MI) I do not like winter but some two years ago, I was attending a course in Boston and had not played golf for one month. So I braved the winter to play. I could only last two holes and had to abandon the game. It was a ridiculous thing to do just for a game.
(TG) Is your immediate family into golf as well? If not, is there a tendency to get them into golf? Share with us your other sports interests.
(MI) Yes my family is into golf. My father was a very keen golfer (played a handicap 6 at his peak). Most of my siblings play golf. I have not been able to convince my wife to start the game. My seven-year old son is taking lessons and very keen on the game. I also enjoy tennis. I watch some football too.
By Collins Oppong
TheGolfer newspaper